Student Awards
Provost's Circle Scholars
The Department of Athletics nominates student athletes who exemplify excellence in academics as well as in their sport for recognition as a Provost's Circle Scholar. Award recipients are honored at a dinner at the Patrick Barry House, the official residence of the Provost.
2017 Provost's Circle Scholars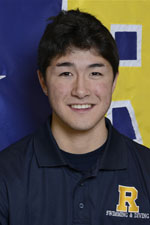 Maxwell Adler
Swimming, Applied Music
I am a 3rd year U or R student pursuing a BA in psychology and a BM in oboe performance at the Eastman School of Music. I am originally from San Rafael, California, a town just north of San Francisco. I chose U of R because of the incredible Dual-Degree program, which allows me to pursue my academic interests while maintaining a rigorous music education. I also chose U of R because of the wonderful and reputable Eastman oboe professor Richard Killmer. I did not originally plan to continue diving after high school, but am extremely fortunate the swimming and diving program gave me the opportunity to do so given my rigid time constraints with the music school. The experience with the swimming and diving team has been incredibly fun, and am especially thankful for my fellow diving teammates for making the environment so friendly. Outside of music and diving, I enjoy surfing, traveling, reading fiction novels, and relaxing with friends. I also like to meditate, and am an active member of the Rochester Zen Center. I am not fully decided on what I would like to do after graduation, but I am currently looking into graduate schools for music, and am looking into auditioning for professional orchestral jobs.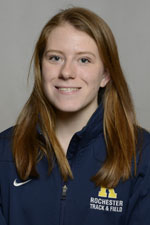 Colleen Arnold
Track, Chemistry
I am from Rochester, NY. Attending the University of Rochester was an easy decision for me; I loved the freedom of the open curriculum, the strong reputation of the science departments, and the campus atmosphere. Running Track has greatly enhanced my experience, and I'm grateful that I am able to pursue my academic and athletics goals here. After graduating, I hope to attend medical school. In my free time, I enjoy reading, music, and spending time with friends.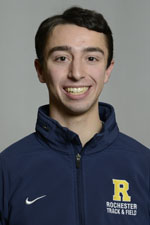 Brian Caputo
Track, Statistics / Business
I came to the University of Rochester my freshman year straight out of the small town of Silver Lake, New Hampshire. The U of R had immediately drawn me in on my first campus tour; I was excited not only by the open curriculum and academic programs, but by the welcoming feel of the campus and the friendliness of the people here. As a junior now, majoring in Business & Statistics and minoring in Epidemiology, I have a variety of interests. I hope to spend my time after graduation working in Market Research, Business Analytics, or potentially in research within the field of Epidemiology. In addition to my academics and athletics, I am an avid writer, photographer, and I occasionally DJ. I am involved with WRUR, Campus Times, and Urban Explorers, and will be a Peer Adviser for the Business program in the upcoming academic year.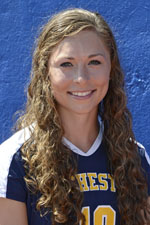 Olivia Denny
Field Hockey, Biological Sciences / Biochemistry
I am from a small town called Barker, NY, about an hour west of Rochester. When I was looking at colleges, I was drawn to Rochester's rigorous academic curriculum and the field hockey team here at U of R. While receiving a great education, I am able to competitively play the sport I love and have met amazing people doing so. I am majoring in Microbiology with a double minor in Chemistry and American Sign Language. In addition to playing field hockey, I am also a workshop leader for Biochemistry, a volunteer at Wilmot Cancer Center, and worked as a research assistant in a Neurology lab at the Medical Center. After graduating from U of R, I plan to enroll in Pharmacy School to complete my Pharm. D. degree.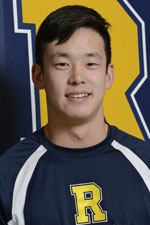 Arlen Fan
Swimming, Electrical and Computer Engineering
I am from Birmingham, Alabama. I chose to attend the U of R for its reputation in economics and engineering. I feel fortunate that I was able to walk-on to the swim team, since swimming in college was not a part of my plan. In addition, I never thought I would also participate in cheer-leading; I have just completed my second season with the cheer-leading team at UR. Apart from swimming, I enjoy travel and reading. Upon graduation, I intend to pursue engineering and management roles in the semiconductor industry, and eventually get a graduate degree.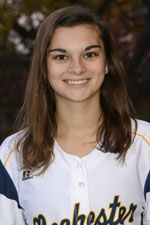 Haberly Kahn
Softball, Chemical Engineering
I am from Newton, MA, which is right outside Boston. I chose the University of Rochester mainly for its reputation as a competitive engineering school, but also to get the chance to continue playing softball for another four years. I loved that Rochester's softball team was successful within Division III with many NCAA Championship appearances. In these last three years, my team has really become my family. Although the curriculum is difficult, I particularly like the U of R because the academic atmosphere is very collaborative. While at U of R, I went abroad to Germany for a summer internship in an alternative combustion process and will be heading out to California to conduct atmospheric research this summer. After I graduate, I hope to pursue a career in the alternative energy industry. Outside of softball, I enjoy skiing, martial arts, taking walks, and traveling.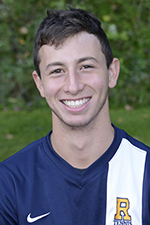 Cyrus Mevorach
Tennis, Math
I grew up nearby in Brighton, NY. I have been playing tennis competitively since I was eight years old, so finding a college where I could continue to play at a competitive level was an important part of my decision to come to U of R. At the U of R, I have had the opportunity to challenge myself both academically and on the court. I like playing a variety of sports in my free time, my favorites being golf and ping pong. After graduation, I would like to pursue a career in financial and/or economic research.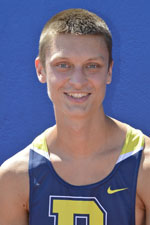 Kyle Ruffner
Cross Country, Biomedical Engineering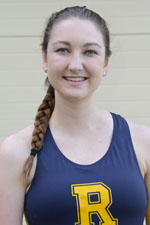 Gillian Schwartz
Rowing, Brain and Cognitive Sciences
I am from Macungie, Pennsylvania, which is about an hour north of Philadelphia. I came to U of R due to its breadth and depth of opportunities in brain-related sciences, as well as the open curriculum and campus environment. Joining the crew team was an unexpected decision but has really enriched my experience here. I am studying Brain and Cognitive Science as well as Psychology and plan to pursue medical school with the end goal of becoming a behavioral pediatrician. Outside of rowing, I am involved in research and volunteering with kids in Rochester, and am a TA for general chemistry lab. I also enjoy playing the harp and going to coffee shops.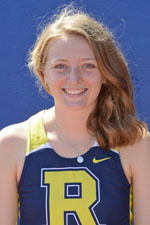 Clara Wolfe
Cross Country, Biological Sciences / Biochemistry
I am from Roxbury, a small town in Connecticut.  When I was looking for schools, I wanted a small university with excellent academics and good research opportunities.  U of R fulfilled all of these requirements.  In addition, of all the schools I looked at, the students at Rochester seemed to be the most enthusiastic, friendly, and passionate about their interests.  I love being part of such a driven and caring community.  After graduation, I plan on going to graduate school and eventually participating in biomedical research.  In addition to running, I enjoy reading and spending time outdoors.