Student Awards
Provost's Circle Scholars
The Department of Athletics nominates student athletes who exemplify excellence in academics as well as in their sport for recognition as a Provost's Circle Scholar. Award recipients are honored at a dinner at the Patrick Barry House, the official residence of the Provost.
2018 Provost's Circle Scholars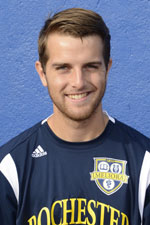 Nikolas Angyal
Soccer, Chemical Engineering
I am from East Fishkill, NY which is about an hour north of New York City. I did not come across UR until relatively late in the college search process, but when I did, it immediately became my top choice. The strong engineering program combined with the open curriculum was a major factor in my decision and I have greatly enjoyed the freedom the curriculum has provided me to take a variety of interesting classes outside of my major. I was not recruited to play soccer here at UR, but decided to come here anyways with the hope of walking on to the team, which I accomplished in the spring of my freshman year. Being on the soccer team has been an amazing part of my college experience, especially with the success we had this past year in advancing to the Elite Eight of the national championship tournament. In my spare time I enjoy reading, hiking and volunteering as an assistant coach with my old club team. After graduation, I plan on attending graduate school before pursuing a career in the renewable energy industry.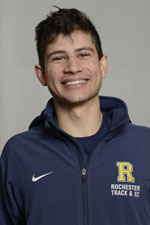 Ankur Desai
Cross Country / Track, Optical Engineering
I'm originally from Rome, NY, which is a fairly large city about two hours east of Rochester that surprisingly few people have heard of. There's a lake back home, and I love every activity on or near the water. When it's frozen, I'm an avid skier and a big fan of snowballs.
The UofR was actually the first college that I 'heard' about when a college rep came and talked at my school way back in 2013. There was some waxing and waning of interests, but I kept being pulled back by Rochester's unique atmosphere. With the feel of a fairly small school and the resources and reputation of a large university, it was the perfect fit for me; the fact that I could also excel athletically was the cherry on top! After I graduate, I hope to pursue a PhD in Optics and eventually take on a larger role in industry.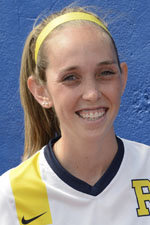 Christina Feller
Soccer, Psychology and Neuroscience
I am from Elm Grove, Wisconsin. I visited the University of Rochester my Sophomore year of High School and instantly fell in love with the campus, academic excellence, and the women's soccer program. I have been playing soccer since I was four years old and it has been a part of my life ever since. I chose to attend the University due to both its soccer program as well as its high academic standards, especially within the medical field. The U of R provides invaluable hospital and research opportunities for its undergraduates. I currently work in the Emergency Department at the Medical Center focusing on concussion research. Throughout the past two years, I have used eye tracking to test the vestibular system of control athletes, patients at Dr. Bazarian's concussion clinic, and our Football team as they accumulate sub-concussive hits. This research has allowed me to grow as a student, clinical researcher, and has provided necessary foundations for medical school.  The University has allowed me to pursue both of my passions: neuroscience and soccer. I am very fortunate to attend a University that truly caters to their student-athletes. In addition to being a member of the URWS team, I am a member of GR soccer club and FCA. Outside of these activities, I love spending time with family and friends, and being outdoors whether that be participating in winter sports or just taking walks in the summer. After graduating, I plan to attend Medical School and become a surgeon.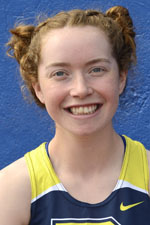 Madeline Hoey
Cross Country, Biological Sciences and Biochemistry
I'm from Warwick, NY, a smaller town that even New Yorkers rarely recognize. I was drawn to the University of Rochester by the undeniable enthusiasm of the people I met for their interests, and how motivated they were to pursue their goals. I feel that my running team, which truly makes Rochester feel like my second home, always encourages me to strive to better others and myself. Apart from running, I am involved in research and SUBS, and I will be a Biochemistry Peer Advisor next fall. After graduation, I plan to go to graduate school and pursue research in biotechnology with a focus on developing more sustainable, alternative energy options. In addition to running, I love to paint and hike whenever I can!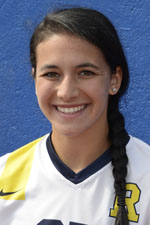 Shayna Levy
Soccer, Financial Economics
I am originally from North Salem, NY, a small town in Northern Westchester.  I have always played soccer at the competitive level and am currently a member of the Israeli Women's National Soccer Team.  As an Israeli citizen, I have represented Israel in fifteen international games, including qualifiers for the Women's World Cup. The University of Rochester Women's soccer team has allowed me to continue to play at a competitive level, be a part of a dedicated team and serve as a leader.  I chose the University of Rochester because of its diverse population, exemplary academics and athletics, as well as the embodiment of our motto, "Meliora". I am a Financial Economics major, Member of the Meridian Society, Business Chair of the Israeli Cultural Club and President of the University of Rochester Investment Banking Program.  Upon graduation I plan to pursue a career in finance.  I enjoy traveling, spending time with my family and friends and of course, playing soccer!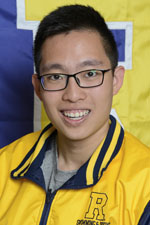 Nicholas Lim
Swimming, Biological Sciences and Microbiology
I am from Singapore and grew up in Hong Kong and Shanghai. I chose to attend the University of Rochester for its many opportunities in undergraduate research and the flexibility in academic curriculum. I really enjoy the supportive environment created on the swim team. Outside of swimming, I tutor for CETL and am in the badminton club. I also enjoy skiing and travelling during my free time. After graduation, I intend to pursue a career in the pharmaceutical industry.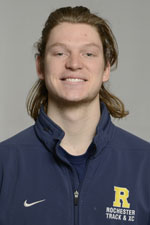 Benjamin Martell
Cross Country / Track, Mechanical Engineering

I went to high school in Lexington, Massachusetts, but I've lived in North Carolina, Connecticut, and Montreal. I chose UR because of the open curriculum, I could run here, and when I came to visit I had a great time and everyone I met was super friendly. I am extraordinarily lucky to be on the cross country and track teams because of the group of people that I am with all the time, they all make it worth it. After I graduate I am planning on going to graduate school in Aerospace engineering or Oceanography. I also enjoy learning the guitar in my free time.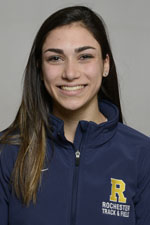 Rachel Siciliano
Track, Psychology
I'm from Hilton, NY which is a small town in Rochester. I first saw University of Rochester when coming to watch a Field Hockey game during high school. I loved the campus and knew it was a good choice. I chose the University of Rochester because of the various opportunities it provides. Being a psychology major, the thought of having many research options was exciting. Also, having the ability to choose my own course of study while being involved in athletics was really appealing. Being part of a team and having access to a great education is something that I really value here at University of Rochester. In my own time, I enjoy distance running, lifting, and being with my family/friends. In the future, I plan on attending graduate school for elementary school counseling.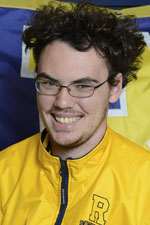 Noah Soxpollard
Swimming, Molecular Genetics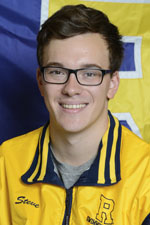 Paul Steve
Swimming, Chemical Engineering
I am from Webster, NY just north of Rochester. I chose the University of Rochester for the reputation of the engineering school and the chance to swim for another four years. I had a great recruitment process for the swim team which made me want to work with the fantastic coaching staff and team. Even though the chemical engineering curriculum is difficult, I have enjoyed the opportunity to build friendships that I know will last for a long time. Outside of academics and swimming, I enjoy playing golf, listening to music, reading, and being with my friends. After graduation, I would like to work in the Biopharmaceutical industry and eventually get a Ph.D. in chemical engineering.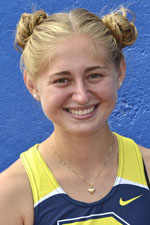 Samantha Tetef
Cross Country / Track, Computer Science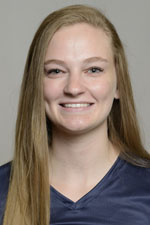 Courtney Vidovich
Volleyball, Biological Sciences and Neuroscience
I am from Douglassville, PA, a small town about an hour NW of Philadelphia. During my college search I was looking for a small university known for rigorous academics where I could continue my volleyball career. After visiting U of R's beautiful campus and learning about the open curriculum, neuroscience major, and research opportunities, it was easily my top choice. Aside from volleyball, I spend time researching and volunteering. For two years I worked in the Goldman Lab at URMC's Ernest Del Monte Institute for Neuromedicine and now I am a Neuropsychology Intern for the Physical Medicine and Rehabilitation Department at Strong. I enjoy giving back, especially to the kids in Rochester- I help our team run volleyball clinics and I am in the Pen Pal with East program. I am currently applying to medical schools for post graduation with interests in surgery, neurology, and pediatrics.