Office of Human Resources
R.A.R.E.S
RARES Office Contact Information
2015 University of Rochester Member ID #19832015
Employee Discounts!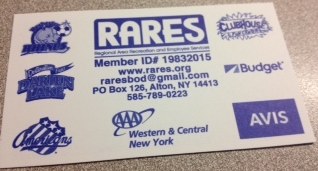 The University of Rochester is a member of RARES - the Regional Area Recreation and Employee Services Association. As an employee of the University of Rochester, you are a member of RARES and are eligible to obtain discounts through the use of the RARES card. A not-for profit organization chartered in 1983 to assist in offering employees benefits and discounts on products and services, there are hundreds of discounts available.
Some discounts offered, such as those for Darien Lake, Genesee Country Village, Geva Theatre Center, RMSC and the Seneca Park Zoo are available by just showing your RARES card. It is important to note that discount tickets for Buckmans, Delta Sonic, Movies & Theatre and the summer season (Red Wings, Darien Lake Season Passes, Old Forge Water Safari and the New York State Fair) do require advance purchase from the RARES office. Individuals and departments may purchase via the RARES ticket order form.
Visit the RARES web-site!
Please visit the RARES website for details on all local and national discounts and how to obtain them. Enter the ID # for University of Rochester employees (19832015) to view discounts alphabetically or by category.
Get Your 2015 Rares Card!
You can pick up your RARES card at any one of several university locations (see right hand side of this page).
UR RARES Card Pickup Locations
SMH URMC:
SMH Cashier's Office
Room 1-1399

College Town:
Benefits Office
44 Celebration Drive
Suite 2300

River Campus:
ID Office
1st Floor
Susan B. Anthony Halls

Brooks Landing:
HR Service Center
Suite 100
910 Genesee Street

Eastman School of Music:
Information Window
26 Gibbs Street

East River Road:
Laboratory for Laser Energetics
Administrative Suite

Bloch Center
Concierge Desk
Ground Floor, AAC

Facilities
514 Intercampus Drive
(Marie)

Memorial Art Gallery:
Administration – Ann
500 University Ave., 2nd Floor

Intramural Mail:
Please email your request to: RARES@ur.rochester.edu
PLEASE INCLUDE YOUR INTRAMURAL BOX NUMBER in your request and allow 7 business days for processing.