Rochester Curriculum
Promoting Student Choice
Instead of general education or foundation requirements, our students choose a major and two clusters* that interest them, each of which falls into one of the following academic divisions:
Humanities
Social sciences
Natural sciences and engineering
Students also have the option of expanding one or both clusters into a minor or even another major. This allows our students to take ownership of their academic program within a flexible framework and study what they love.
Students are also required to complete the primary writing requirement.
*Engineering students are only required to take only one cluster in another field.
Clusters
Clusters are three-course sequences within a division (humanities, natural sciences, and social sciences) or department. Students have the opportunity to choose among hundreds of faculty-designed clusters or to modify and even custom design their own cluster.
See the cluster search engine for a complete list of available clusters.
Primary Writing Requirement
To help prepare you for your academic coursework, we require that all of our students complete the primary writing requirement. The most common way to satisfy this is to take WRT 105. There are multiple offerings for WRT 105 every semester on a variety of topics, which allows students to choose a subject they're interested in. Some topics include:
Philosophy through science fiction
Disease and society
Writing about food
America's national parks
Visual forms of comedy in film and television
Contemporary social movements: exploring social and political change
Diverse languages, diverse identities
Gender and race in representations of the Middle Ages
Comics and culture
Hypothetical realities
See the primary writing requirement page for more information.
Rochester Curriculum in Action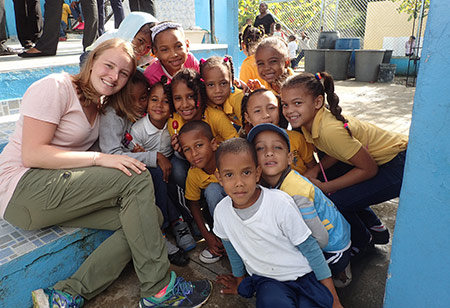 Eva Hansen '18, a biomedical engineering student at the University of Rochester, has traveled to the Dominican Republic twice with the University's Engineers Without Borders (EWB) student chapter. While there, she helped provide an elementary school with access to clean water.
Because of the unique design of Rochester's undergraduate curriculum, Hansen has been able to augment her major and EWB experience with a "cluster" of courses in public health.
Read more about her experience, and the Rochester Curriculum in the article The Rochester Curriculum: Freedom, with intentionality.
---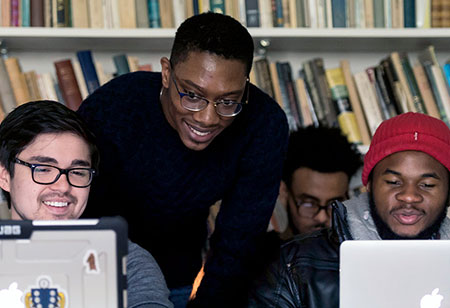 Courtney Thomas, Jr, '18, center, created his own neuroeconomics major. He is also a double major in international relations and a Kauffman Entrepreneurial Scholar.
Thomas came to Rochester intending to study astrophysics. But he quickly realized that he is better suited to change the world as an "organizer"—as someone with a knack for "understanding how systems work, how people work, and creating a platform and infrastructure for change to take place."
Read more about his experience in the article The Rochester Curriculum: Creating their own majors.
---
Michael Lin '21, an English and business student, chose to attend Rochester because it gave him the freedom to study what he wanted.