How Will We Look In 2040?
As the University develops a Campus Master Plan, architects and planners sketch the future.
By Sharon Dickman
One, University, One Plan
For the past two years, campus planners, working with University trustees and administrators, have studied and how the University should direct its growth. Still a work in progress, the Campus Master Plan sets its sights 30 years ahead. More.
In this year of strategic planning, there's energy and excitement to get things done. New programs and funding sources are materializing. Ideas abound about the future of the University—and the physical shape that it will take.
"We have ambitious goals to be one of the most outstanding research universities in the United States," says President Joel Seligman. "Our Campus Master Plan is coordinate with our strategic planning process and provides a basis for the most effective development of our campus over the next several decades."
Today's University inherited a planning document from the 1920s with a strong center composed of an iconic library and buildings wrapped around the main green—the Eastman Quadrangle on the River Campus. Ayers/Saint/Gross, a firm of noted architects and planners specializing in higher education, is working closely with University leaders and staff to knit together old spaces and imagine new ones.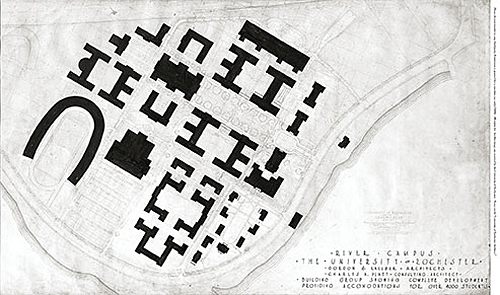 Kevin King, one of the lead planners on the master plan, notes that Eastman Quad was conceived as a cohesive whole and features a hierarchy, consistency, and connectivity that still works today. While the buildings accommodate a significant portion of the College's core square footage of academic space, the buildings have a scale that doesn't overwhelm the people who use them or who visit campus, he says.
"These lessons are transferable across the campus and form one of the guiding principles of the plan," King says.
The analysis of the University's 11 million square feet of space covering more than 600 acres will produce a framework for the next 30 or more years. Ronald Paprocki, senior vice president for administration and finance, is overseeing the process. The Board of Trustees reviewed and commented on the plan in March. It should be finalized this fall.
The following two pages preview concepts and suggestions for growth at the Medical Center and the River Campus.
As for the amount of available land, consultants from Ayers/Saint/Gross see Rochester in the enviable position of being land-rich and able to "buy land from itself." When existing spaces are redesigned for new purposes, possibilities multiply.