In Review
SPORTS PREVIEW
Scouting Report
How do the Yellowjackets look as they prepare for their fall 2010 seasons?
Men's cross country
Hungry to reclaim the New York State Collegiate Track Conference crown, which Rochester last won in 2008, the squad wants to finish the 2010 campaign with a top-10 national ranking. Brian Lang '11 will pace the squad after competing in the NCAA championships last year. Jamie Vavra '12, an all–Atlantic Region pick in 2009, and Jon Pinto '11, who earned all-conference accolades last year, add to the team's depth.
Women's cross country
Rochester has sent three different individual runners to the NCAA championships the last three years. In 2010, coach Barbara Hartwig is hoping to qualify a full squad for nationals. At the forefront will be Lauren Norton '12, who qualified for NCAAs as a freshman and sophomore. Other key Yellowjackets include Megan O'Connor '11, Hillary Snyder '12, and Zarah Quinn '13. Some of the younger runners will need to step up and earn places in the team's top 10.
Volleyball
Rochester promises to be much improved from 2009, with all but two graduated seniors returning, including three talented sophomore starters in libero Lauren Bujnicki '13, rightside hitter Alma Guevara '13, and outside hitter Kelly Mulrey '13. In addition, a strong crop of seniors will be back, while a talented freshman class will be led by setter Jackie Fluegel '14. The Yellowjackets hope to build on their seventh-place finish at UAAs in 2009.
Rowing
Coach Will Greene's squad enters its second year of varsity competition after a successful 2009–10 effort in which the Yellowjackets found significant success, including a No. 3 team ranking in the NCAA East Region.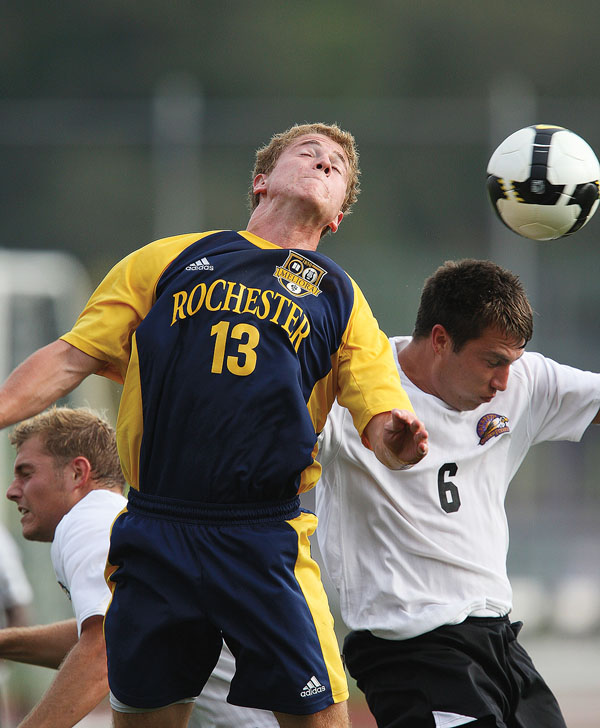 Men's soccer
The Yellowjackets advanced to the elite eight of the NCAA tournament and finished at No. 6 in the country last season. The good news for 2010 is that the team returns its entire midfield and two central defenders, including all-region and all–UAA picks Misha Carrel-Thomas '11 on defense and Steve Welles '11 in the midfield. Rochester must replace its two leading scorers and goalkeeper Mike Peacock, all of whom graduated in 2010.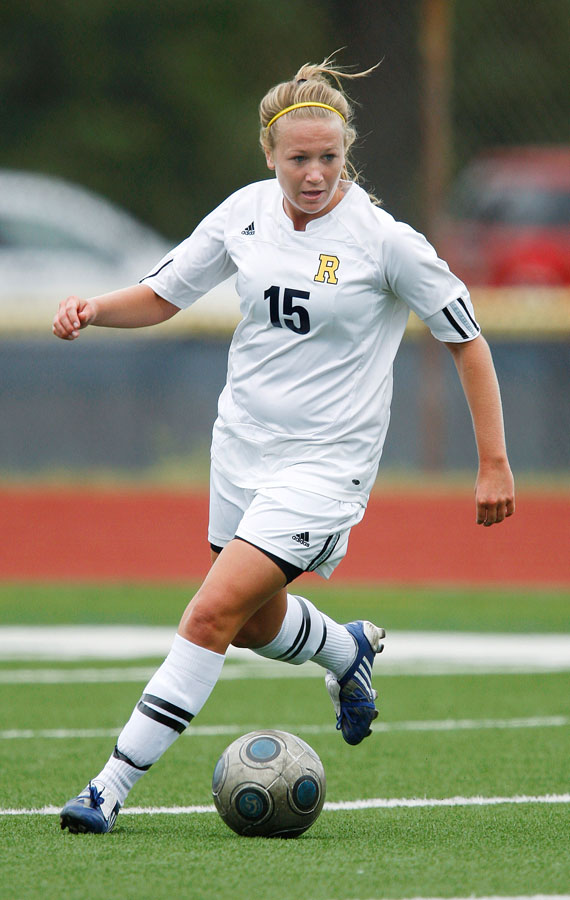 Women's soccer
Challenged by a brutal 2010 schedule and the graduation of eight players from a 2009 team that advanced to the second round of NCAAs and shared the UAA title, the squad features a young but potential-laden defense. Leading scorers—all-American forward Ellen Coleman '12 and all–UAA forward Bridgette Varin '11— return as does Meaghan Magee '11 to anchor the defense.
Football
Rochester struggled at times in 2009, but with the return of first-team all–Liberty League performers—running back Clarence Onyiriuka '11 and defensive tackle Chris Bickford '12—the upcoming campaign looks promising. Both Onyiriuka and Bickford have picked up preseason all–America accolades this year. The Yellowjackets finished 4–3 in the Liberty League last year and 4–6 overall.
Men's tennis
Coming off a spring season in which they earned a No. 17 ranking in the northeast region and placed seventh at the UAA championships, the team returns five starters for what promises to be a solid fall season. Seniors Dan Barbash '11 and Jeff Zink '11 bring a wealth of experience as the Yellowjackets kick off 2010 by cohosting the Flower City Invitational Sept. 11 and 12.
Field hockey
Rochester returns a young team that features only one senior, cocaptain and defender Sara Heidinger '11. Coach Wendy Andreatta says her team is ready to improve on last year's record of 11–7, with six returning starters leading the way and a talented class of freshmen bolstering the lineup. The strength will be on defense, where four starters return—Darragh Kerr '12, Alexis Vangello '12, Sarah Dixon '13, and Alexa Freedman '13.
Golf
Coach Dan Wesley is excited about a 2010–11 team that returns all but one player and welcomes six freshmen. Captained by Chris Driscoll '11, Ryan Williams '11, Michael Chudacoff '12, and David Wien '12, the team begins its season with a small, four-squad event at Hamilton, then gets into full swing with the St. Lawrence Invitational Sept. 11 and 12.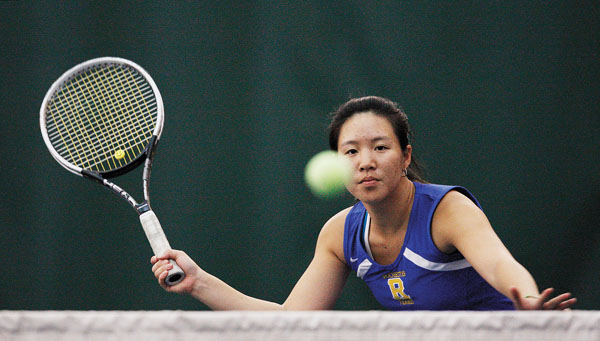 Women's tennis
After earning a national ranking of 20th last season, the Yellowjackets are looking to make a bigger impression this fall. Lia Weiner '11, one of the northeast's best singles players, returns to pursue her third straight regional crown—and another all-America selection. Also returning is Frances Tseng '13, who made her mark quickly last year by claiming Rookie of the Year honors for both the UAA and the northeast region. In addition, Weiner and Tseng form one of the region's most formidable doubles pairings. Danielle Shreck '11 earned second team all–UAA accolades last year. —Ryan Whirty
---
Ryan Whirty writes about sports for Rochester Review.