Alumni Gazette
Sweet Victory
"It feels like the world has not stopped moving," says Mark Ferrandino '99, '00 (MS), Colorado's newly elected speaker of the House.
By Karen McCally '02 (PhD)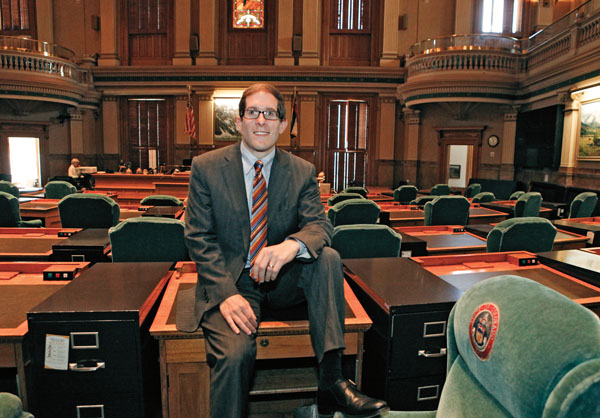 Mark Ferrandino '99, '00 (MS) calls his election to become speaker of the Colorado House of Representatives "overwhelming and humbling."
His rise to the speakership has made national news. Come January, he'll become the first openly gay House speaker in a state that 20 years ago legalized discrimination against gays and lesbians.
Just last May, Ferrandino, a Democrat who has represented south-central Denver since 2007, championed a bill in the House making it legal in the state for same sex couples to form civil unions. Under the leadership of then speaker Frank McNulty, who represents the Republican stronghold of Douglas County in a state with a solid base of religious conservatives, the bill—which had passed the Senate, had the strong backing of Gov. John Hickenlooper, and enough committed Republican votes in the House to pass—never reached the floor for that final vote.
"After what we went through last year people were eager and excited to work on campaigns to change our direction," says Ferrandino, who framed the failure of the civil unions bill to become law as an issue of subverted democracy as much as an issue of equal justice for gays and lesbians. The Democrats took over the majority on Election Day, and named Ferrandino, who had been the Democratic leader since November 2011, speaker of the House two days later.
A native of Nyack, N.Y., Ferrandino arrived in Colorado only in 2004. After completing a double major in economics and political science and a master's degree in public policy analysis, Ferrandino moved to Washington, D.C., where he worked in the White House in the Office of Management and Budget. He began dating Greg Wertsch, a federal law enforcement officer with the Department of Homeland Security. When Wertsch was offered a job in Colorado, Ferrandino went with him.
Ferrandino moved quickly up the state party ranks. In 2005, he became treasurer of the Colorado Democratic Party and in 2006, landed a position at the Colorado Department of Health Care Policy and Financing as a senior budget analyst. In 2007, he was named Colorado Young Democrat of the Year and in 2010, when he'd become the ranking Democrat on the Colorado legislature's Joint Budget Committee, the party named him a Rising Star.
Wertsch, still his partner—the two are also the new parents of a baby girl—has been a steady source of support. "He knew when we met that I wanted to run for office. He's been very supportive—though not always supportive of the pay cut I took when I ran for the legislature," Ferrandino says dryly.
"I'm a numbers guy," he says, referring to his passion for budgetary issues, which will be a priority in January.
Not surprisingly, another key issue will be civil unions. He plans to reintroduce the bill on day one of the new session.r