Alumni Gazette
Varied Sentences
In the courtroom of Georgia Superior Court Judge Asha Jackson '97, sentences can range from life terms to book reports.
By Karen McCally '02 (PhD)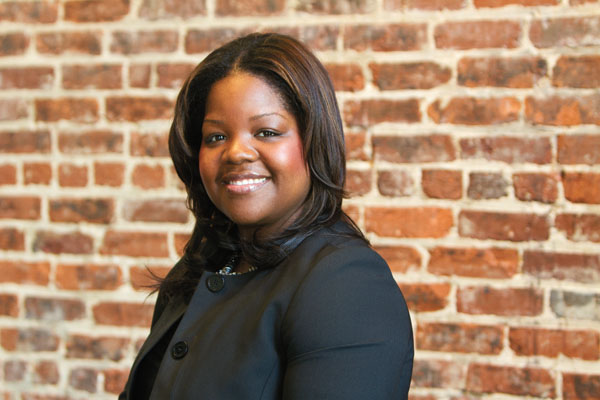 For several years now, Asha Jackson '97 has been gaining recognition as a civic leader in Atlanta, where she grew up. After graduating from Rochester and spending three years in New Orleans earning her law degree at Tulane, she returned to her hometown to clerk for DeKalb County Superior Court Judge Michael Hancock. She made partner at one Atlanta firm and was swiftly recruited by another. All the while, she pursued multiple other projects in the community, including founding the Atlanta Urban League Young Professionals and serving on multiple boards.
After Judge Hancock retired in January 2012, Georgia Gov. Nathan Deal appointed Jackson as his successor.
"This is my dream career," she says. "I always wanted to be a judge."
Appointed at age 36, Jackson is among the state's younger superior court judges. In Georgia, the superior courts are the highest trial courts and the only ones with general jurisdiction. And DeKalb County is a populous and fast-growing area that encompasses East Atlanta as well as Decatur.
Jackson spends most of her time working with a civil, criminal, and domestic caseload of about 1,500 cases pending at any moment. Reflecting a microcosm of the community, the cases can be small or quite large.
"On the civil side, they can involve very large amounts of money and property. On the criminal side, felonies," she says. "You have to know how to move cases."
She points to her litigation experience, which she says "allows me to run a very efficient courtroom."
Her colleague, Judge Cynthia Becker, agrees. Becker also came to the bench from a private firm. "Asha and I have had a lot of conversations about how we can improve the process, not just for us, but for everyone," she says. A senior colleague who recalls Jackson's days as a young law clerk for Hancock, Becker adds, "I've always been impressed by Asha's intellect, energy, and personality. It sounds funny to say personality. But Asha has one of those personalities where you know she's going to be a leader."
The maximum penalty in Georgia is death, and Jackson says the toughest sentence she's handed down is life plus 115 years. "A man robbed, raped, and assaulted a minister on church grounds when she opened the sanctuary door to hand him some resource materials," says Jackson.
She works with many less serious offenders, and in this area, has already made a distinctive contribution to the bench. She's created the Pinnacle Project for first-time, nonviolent offenders between the ages of 17 and 25.
"I decided there needed to be another level of intervention. So I took it upon myself to provide that," she says. Project participants still meet with a probation officer and still serve out their sentences, she notes, but adds, "they also meet with me."
Jackson arranges presentations for the group, but also assigns the probationers reading and book reports. "Right now, they're reading Cooked," she says, referring to Cooked: My Journey from the Streets to the Stove (William Morrow, 2008), by Jeff Henderson, a one-time San Diego cocaine dealer who's now a successful Las Vegas chef. When the group meets in her chamber, as it does every three months, they'll present their book reports and receive their next reading assignment.
"A lot of offenders I work with want to be what they see in the media," she says. Not that that's always a bad thing. Last fall, Jackson went on The Mills Connection, a popular Atlanta television talk show, and admitted to something she said "might sound corny." She decided she wanted to be a judge in elementary school, after watching People's Court.
"I wanted to be Judge Wapner," she told host Carla Mills. "I sat and I watched his technique and I thought, 'I can do this.' " At the Southwest Atlanta YMCA afterschool program, a young Asha Jackson and her playmates played court. "Every time someone said, 'let's play court,' I had to be the judge."
"I knew I couldn't just jump into that position," she says. "I set out on a path."
Her appointment came after a grueling selection process in which she was chosen among 35 other contenders. A committee of lawyers and judges screening nominees came up with a short list of four. Each of the four finalists met with the governor and his team of lawyers. Governor Deal made the final choice.
In 2014, she'll face another hoop: an election.
Says Becker: "She will do very well there, too."