In Review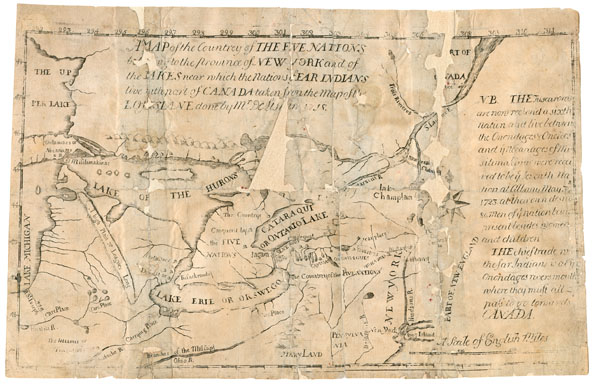 LANDMARKS: The first published map in the colony of New York, "A Map of the Countrey of the Five Nations," is one of more than 50 historic maps, prints, books, and copper engravings donated to Rush Rhees Library by Seymour Schwartz '57M (Res), a highly regarded map historian and the Distinguished Alumni Professor of Surgery in the School of Medicine and Dentistry. The map was created by Cadwallader Colden in 1723 during his appointment as Surveyor General of New York. Although the image was later published in Colden's Papers and in his History of the Five Nations as a supplementary map, the 1724 engraving is one of just two extant copies of the original printing.
"The map is very primitive, yet it conveys so much," says Nancy Martin, the John M. and Barbara Keil University Archivist. "It shows how they visualized the country, which was virtually a wilderness at that time."
The map, and the collection as a whole—which also includes the earliest known visual image of western New York—is a "landmark acquisition for the library," Martin says. Although created for utilitarian purposes, these rare images are "almost accidentally, wonderfully artistic."
"I've always been interested in history, both medical and American history," says Schwartz. "Maps are graphic representations of history. Many of them are very elegant works of art."
"Charting Western New York," an exhibit of the Schwartz collection, opens November 11 in the library's Department of Rare Books, Special Collections, and Preservation.
---
—Kathleen McGarvey