Welcome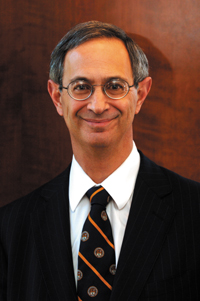 Joel Seligman,
President, University of Rochester
Throughout its 157-year history, the University of Rochester has been committed to the greater Rochester community. We are proud to be an urban university; proud to be a major health care provider in this region; proud that our students, faculty, alumni, and staff are deeply involved in community service; proud of the role we perform as employers, consumers, and neighbors in a community and region we dearly love. We have become the largest employer in our immediate geographic area and the generator of an increasing number of new businesses.
This publication is testament to the many vital connections between the University of Rochester and the greater Rochester community. It bears witness to our role as an educator, a health care provider, a leader in the arts and culture, an active force in economic development, and a good citizen.
We serve our community best by striving to be the most outstanding university we can be. That is why universities are magnets for the economic progress that is the key to our increasingly knowledge-based society. But it is worth highlighting that our ties to Rochester are vital and inextricable, and these ties are growing.
In this publication we celebrate these ties: the University, the Rochester community, and our accelerating progress together.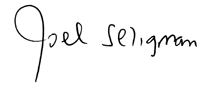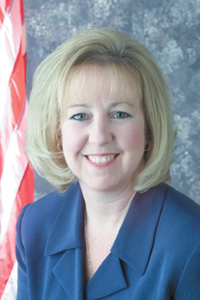 Maggie Brooks,
Monroe County Executive
Dear Friend of the University of Rochester:
Monroe County is proud to be home to the University of Rochester. The unique character and accomplishments of this world-class institution and its faculty, staff, alumni, and students are a great source of pride for our community.
The University of Rochester is Monroe County's largest employer and has a significant impact on our economic vitality and quality of life. It has been a catalyst for start-up enterprises and job creation, cutting-edge research and development, and the growth of high-tech, biotech, and optics companies.
The University of Rochester is also the area's largest health care provider, offering high-quality services to individuals and families throughout our region and across the country. Monroe County is pleased to partner with the University on the Center for Community Health.
Through the renowned Eastman School of Music, Eastman Theatre, and Memorial Art Gallery, the University is bolstering our community's image as a premier center for arts and culture.
I was thrilled to have President Joel Seligman participate in my College Presidents Summit. Our colleges and universities need to be actively involved in defining the vision and priorities for our region as we move forward. I thank President Seligman for his leadership, enthusiasm, and commitment.
I look forward to strengthening our partnership as we continue to build a great future for Monroe County.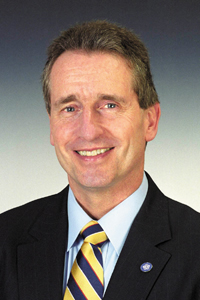 Robert J. Duffy, Mayor
City of Rochester
In every sense of the word, the University of Rochester has truly come off their campus and into our community. As Rochester's number one employer, the University is a genuine economic force, and President Seligman is an outstanding ambassador. The University of Rochester and the City of Rochester are linked both geographically and philosophically, sharing the common ideals of education and economic development.
The University has helped to define modern-day health care in this country, and our city is the beneficiary of the University's immense health care resources. In fact, Rochester was recently voted number six by the Places Rated Almanac as the best place to live in the United States. There is no doubt that the University's presence in our community has contributed to that ranking. The Brooks Landing project, the proposed College Town, and a planned research facility are just a few examples of how the University is helping to reshape Rochester.
Joel Seligman and I use every opportunity to look for ways to build on our successes. I am anxiously looking forward to seeing both the University and our great city blossom into even greater synergy.
The University of Rochester student body represents the type of resident that we want to retain in Rochester—bright, committed, and on the road to success.
From education to health care, from prenatal to nursing home care, from jobs to housing, the University of Rochester and the City of Rochester are reaping the benefits of our strong relationship, interdependency, and collaborative spirit.
I would like to thank University of Rochester President Joel Seligman and the entire faculty, staff, alumni, and student body for their commitment to Rochester.