Attention: Winter break hours run from January 2-17. 
Fauver Stadium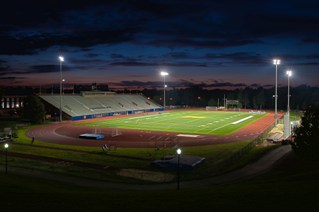 Home of Yellowjacket Field Hockey, Women's Soccer,Men's Soccer, Football, Women's Track and Field, Men's Track and Field and Lacrosse, Intramural and Club Sports, Special Events and Open Recreation
Fauver Stadium on the University of Rochester campus is named for Edwin "Doc" Fauver, MD (1875-1949), Professor of Hygiene & Physical Education, College Physician, Director of Athletics 1916 - 1945, Designer of the River Campus athletic facilities. The 5,500 seat stadium has been the host site for numerous conference and NCAA events including Liberty League football, lacrosse, field hockey, UAA soccer, NCAA soccer and NCAA field hockey.  The most memorable being the 1987 National Championship game, Rochester women's soccer defeated William Smith, 1-0 on a goal by Abby Heister. Additionally, over 140 All-Americans have competed in Fauver Stadium at the University of Rochester.
Features of Fauver Stadium
400 Meter Track
Field Turf infield lined for soccer, field hockey, lacrosse and football
Seating for 5,500
Locker rooms
Scoreboard and Sound System
Assistant Coaches Office Suite
Varsity equipment room
Varsity equipment room
Meeting rooms