Class Notes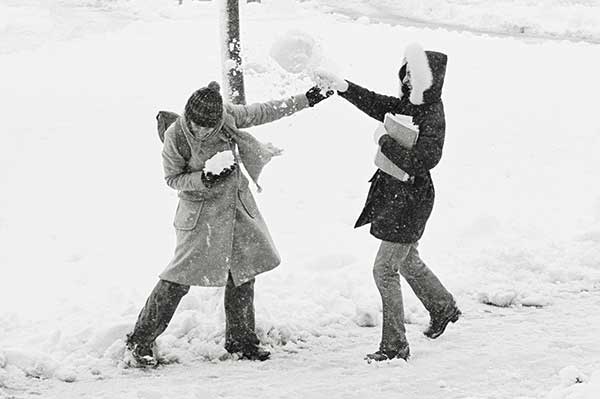 College/Arts, Sciences & Engineering
1959
Robert Scaer '63M (MD), a neurologist, writes that he's written his third book on the neurophysiology of life trauma. Eight Keys to Brain-Body Balance (W. W. Norton & Co.) is "designed for the lay reader as a guide to understanding the body's messages in trauma and the mechanisms of healing."
1961
Irene Berkowitz Stillings has been named president of the U.S. Green Chamber of Commerce. Irene is director emerita of the nonprofit California Center for Sustainable Energy.
1962
Pat Wager Wheeler '65W (Mas) has written Successful Tails: The Wonders of Therapy Dogs (Authorhouse). Pat is a therapy dog handler in Northern California.
1968
Louis-Jack Pozner writes that he's chairman-elect of the United Jewish Federation of Northeastern New York and the organization's 2012–13 campaign chair. An attorney, Louis-Jack has lived in Albany with his wife, Rona, since 1971. . . . Chuck Smith writes: "Lifetime Contract, my one-act play, was chosen by the Old Opera House in West Virginia as one of four plays to be produced in June in their annual One Act Festival. By the vote of three audiences, it came in second, winning the silver medal. Philistines!" Chuck adds that Love Match, a one-act play that he coauthored, was produced last July in California by the Bakersfield Community Theater and last September in Maryland by Thunderous Productions. . . . Alan Wertheimer '74 (PhD) writes: "I've sung with an a cappella group, the Bowties, since the group's formation in 1997. We've just released our second CD, Black Tie Optional, with 15 songs, including a live rendition of 'Bohemian Rhapsody,' performed at Kodak Hall in Eastman Theatre in February 2011. We issued the CD through our website, www.thebowties.com." Alan adds that the group includes John Langfitt, associate professor at the Strong Epilepsy Center, who joined the group in 2011. Alan is on the far left of the photo, and John is next to him. . . . Ed Wetschler writes: "Recommend, a magazine for tour operators and travel agents, has appointed me Caribbean editor. That's a part-time position, so I can continue as executive editor of Tripatini.com, a social network for travel."
1969
Nancy Durand Robblee writes that she and Tony Cantrick met each other for the first time at a recent piano retreat. "Both of us amateur pianists were delighted to run into a fellow Rochester alum, and we were quite surprised to find out we were both in the Class of '69, but had never before crossed paths." The two were attending the four-day Icicle Creek Adult Piano Retreat in the Cascade Mountains near Leavenworth, Wash. She adds that she, her husband, Dick, Tony, and the other participants "had a terrific time learning and playing in this scenic locale." Nancy sends a photo of the group in which she and Tony are seated next to each other in the front row. Tony is third from left, and Nancy, fourth.
1971
Harry Melkonian has written Freedom of Speech and Society: A Social Approach to Freedom of Expression (Cambria). He's an honorary associate at Macquarie University Law School and teaches at the United States Studies Centre at the University of Sydney in Australia.
1972
John Newton has written A Pen Named Man: Our Essence (Resource Publications), a book of spiritual and philosophical reflections. Now retired, John worked for 38 years at Kodak as a patent specialist in the area of silver halide crystal technology.
1973
Gary Clinton and Don Millinger '76 were married in New York City in October 2011. They write: "We met at the U of R in October 1972 and have been together ever since," adding that they celebrated the 40th anniversary of their relationship in October, the day before their first wedding anniversary. Gary is the dean of students and counsel to the dean at the University of Pennsylvania Law School, where he has worked since 1979. Don is the vice president and general counsel for GCAM/Global Cultural Asset Management, an international museum consulting firm. . . . Steven and Judith Koffer Wasserman (see '09).
1976
Barbara Suckle Boardman (see '06). . . . Susan Reinhardt Groesbeck '89W (EdD) has been named a Woman of Distinction in Distinctive Women magazine. Susan is the principal of Havergal College, an independent college-preparatory school for girls in Toronto. . . . Don Millinger (see '73).
1977
Clint Conley writes: "In an ongoing experiment conducted on the knife's edge between dignity and derangement," Mission of Burma, the Boston-based band for which he sings lead vocals, continues to record and perform new music. The band, which Clint helped form in 1979, played together until 1983, broke up, and then reunited in 2001. They toured Europe and the UK in December, and their latest CD is Unsound (Fire Records). . . . Bob Dardano writes that he and Jennifer Baer '03 play bocce together as members of the D.C. Bocce Premier League in Washington, D.C.
1980
Amy Goldblatt Holtzer writes that she's been promoted to principal of the Solomon Schechter Middle School of Westchester, N.Y. She earned a master's degree in school administration from Manhattanville College and adds that she "loves working with preteens and teenagers and their families."
1982
Laura Bigaouette, assistant dean at Manhattanville College's school of education, has coauthored Changing Students, Changing Suburbs: Helping School Leaders Face the Challenges (Corwin Press). The book explores ways in which suburban schools can better meet the needs of a more ethnically and culturally diverse student body.
1983
Lee Burnley (see '86). . . . Jeffrey Lyness '86M (MD) has published a multimedia book, Mental Status Examination Demystified: A Psychopathology Mini-Book. It's designed for medical students and other clinical health trainees and is available for iPad through Apple iBooks. . . . Mark Stoller has been named assistant vice president of IT communications for New Jersey–based Selective Insurance Co. Mark joined the company last August. . . . Gary Stockman (see '86). . . . John Swanson (see '86).
1984
Jenny Swift (see '86).
1985
Poet Sascha Feinstein has written his 10th book, Ajanta's Ledge: Poems (Sheep Meadow Press), a collection of sonnets inspired by the Indian cave site. Sascha is a professor of English at Lycoming College in Williamsport, Pa.
1986
Eric Widra and his wife, Pat, send a photo and an update. In January, Eric attended the change of command ceremony for Capt. Peter DeMane held on board the USS Oscar Austin at the Navy base in Norfolk, Va. Peter was turning over his command of Destroyer Squadron 26 and preparing to report to NATO's Supreme Allied Command in Belgium. Also attending the ceremony were Joe Pearl and Bill Malone. In the spring, Eric and his daughter, Emily '15, a member of the women's rowing team, attended the Dad Vail Regatta together in Philadelphia. Eric and Pat write that Emily is "the first crew legacy that we are aware of." Eric rowed from 1983 to 1986. Last summer, Eric and Pat hosted six members of both the Class of 2015 and the women's rowing team, along with seven Rochester graduates, at their home on Martha's Vineyard. Pictured are (front row, left to right): Emily, Heidi Weiss '15, Juliana Orlov '15, Lee Burnley '83, Jenny Swift '84, Dennis daRosa, Alexa Kuenstler '15, Serra Sevenler '15; (back row, left to right) Karli Cozen '15, John Swanson '83, Eric, Gary Stockman '83, and Bill Malone.
1987
Rob Rosenthal writes that he's been named School Psychologist of the Year by the Association of School Psychologists of Pennsylvania. He adds: "I also recently became a supervisor of pupil services in the Abington School District. My other career is as the director of autism spectrum services at the Growth Opportunity Center in Huntingdon Valley." . . . Julie Taddeo '96 (PhD) writes that she's coedited an essay collection, Steaming into a Victorian Future (Scarecrow Press). She's also the author of the book's introduction and the essay "Corsets of Steel: Steampunk's Reimagining of Victorian Femininity." Julie teaches British history at the University of Maryland at College Park.
1989
Larry Nehring '91W (MS) is an actor, director, and playwright in Cleveland. He served for nine seasons as artistic director of the Cleveland Shakespeare Festival and has recently published four one-act plays based on Shakespeare's works. They include adaptations of Twelfth Night, Macbeth, and A Midsummer Night's Dream, as well as Romeo and Juliet: Produced and Directed by Quince, a comedy about an acting troupe's misadventures during the production of the Shakespearean tragedy. All four plays are published by Playscripts.
1990
Michael Safran has been named senior vice president of sales for USA Today. He'll oversee the newspaper's national advertising sales strategy. He's worked for both Time and Sports Illustrated.
1992
Lori Cunningham has released Userid/Password Address Book (Balboa Press). She writes that it's "an address book for storing Internet userid and password information" and also includes sections for banking information and email addresses. . . . Mike Dashefsky '93 (MS) has accepted a position as associate general counsel for Visa. He'll be working in Visa's Washington, D.C., office and will be handling issues related to global competition and litigation. Previously, Mike was a trial attorney with the U.S. Department of Justice. . . . Leslie Firtell, the president and CEO of Tower Legal Solutions, was named an Ernst & Young 2012 Entrepreneurial Winning Woman. She was one of 11 winners nationwide. The award recognizes women entrepreneurs whose ventures offer exceptional growth potential. Tower Legal Solutions offers legal staffing and e-discovery project management support and is based in New York City with offices in Washington, D.C., Charlotte, and Pittsburgh.
1995
Kristen Herlihy is the owner of a Baby Boot Camp franchise. She writes: "By combining business and parenting worlds, I spend time with my 19-month-old son, Connor, while teaching fitness classes to other moms and babies."
1998
Eric Danton writes that he married Sara Brenneis in June in Amherst, Mass. He adds: "I took a buyout in May from the Hartford Courant newspaper in Connecticut, where I had written for 14 years, 10 of them as rock music critic. I now work as a contributing editor for RollingStone.com. . . . Peter Dowd writes that his film, The King of Size, premiered at the LA Shorts Fest last September. "The film is a documentary portrait of Rochester's Tony Natalie, a former champion bodybuilder on a quest to reclaim the glory of his former Mr. New York crown. I've been filming Tony on and off for more than 10 years, and hope one day to turn this short film into a feature." . . . Jon Scahill '04S (MBA) writes that he and his wife, Alexis, welcomed a daughter, Maeven Rae, in August. He adds: "Aunt Samantha Rae Fabricant '12 made sure to visit the hospital just days before beginning her first semester of law school at John Marshall in Chicago."
1999
Mark Ferrandino '00 (MS), a Colorado state legislator from Denver, was elected Speaker of the House by his Democratic colleagues last November. . . . Marc Samuelson writes that he and his wife, Heather, welcomed a son, Isaac Charles Samuelson, last May. Marc adds: "I'm a workers' compensation and social security disability attorney in Pleasantville, N.J., just outside of Atlantic City, and Heather is an occupational therapist."
2000
Daniel Ferrara writes that he and his wife, Yuki, welcomed their first child, Joseph, last August. Daniel adds: "We're living in New York City, where I'm a criminalist with the New York City Office of Chief Medical Examiner." . . . Jim Lilley has been named to the board of directors of the Big Brothers Big Sisters of Greater Charlotte, N.C. Jim is the regional wealth planning manager and senior wealth planning strategist for the Charlotte financial planning team of Wells Fargo.
2002
Ingrid Brill Albright writes that she and her husband, Shane, welcomed their first child, Anneliese, in August.
2003
Jennifer Baer (see '77). . . . Michael Breakstone and his wife, Laura, welcomed a son, William, in October. William weighed 8 lbs., 1 oz., and was 21.5 inches long. . . . Mithun Sahdev and Megha Shah '05 write that they welcomed a son, Aarav Ashok, in July. Mithun and Megha were married in May 2009 and live in Jersey City, N.J., where Mithun is a financial analyst for Johnson & Johnson and Megha is a resident in internal medicine at New York University.
2004
Jessica Marcinkevage has been awarded a 2012–13 American Fellowship from the American Association for University Women. Jessica is a doctoral candidate in nutrition and health sciences at Emory University. The fellowship will help support Jessica's research on nutrition in women of childbearing age. . . . Renata Schloss '05 (T5) (see '05).
2005
Patrick and Nancy Mahadeo Brennan '06 welcomed a daughter, Penny, in October. . . . Roma Desai has joined the New England law firm Bernstein Shur as an associate specializing in bankruptcy and reorganization. She'll work in the firm's Portland, Maine, office. . . . Brian Goldhagen writes that he and Renata Schloss '04, '05 (T5) celebrated their second wedding anniversary in Cozumel, Mexico. Brian adds: "We started dating our last year in Rochester. We remember our days at Rochester fondly." (See "Where's Rocky," page 54.) . . . Megha Shah (see '03).
2006
Jeremy and Kathryn Harvey Boardman welcomed a daughter, Lillian June, in August. They note that Lillian is the granddaughter of Barbara Suckle Boardman '76 and the niece of Andrew Boardman. . . . Nancy Mahadeo Brennan (see '05).
2008
Christopher Bell '10M (MS) married Sarah Kolb in June at Woodcliff Hotel and Spa in Fairport, N.Y. Christopher writes: "The weather was absolutely perfect, and we were surrounded by family, friends, and fellow U of R graduates, including George McCrory '06 and Tyler Stapleton '08.
2009
Erin Philbrick writes that she married Dan Wasserman '10 last August in Penfield, N.Y. Erin is a doctoral candidate in epidemiology at the School of Medicine and Dentistry. Dan is a research associate at KJT Group in Honeoye Falls, N.Y. Pictured are (back to front, left to right): Robin Hargadon '10, Ross Brenneman '10 (groomsman), Dana Hilfinger '11, Krista Lombardo '10, David Maystrovsky '10, Dana Olzenak, Elizabeth Bremer '12W (MS), Steven Wasserman '73 (groom's father), David Weinberg '72, '73S (MS), '84M (Res), Courtney Jones '08M (MPH), Deborah Philbrick '10, Rebecca Rosenberg '12, Conor Willis '11, Erin, Dan, Marc Epstein '10 (officiate), Judith Koffer Wasserman '73 (groom's mother), Vivian Koffer Weinberg '72, Heather McGrane Minton, and Megan Herr.
2010
Sam Fishman writes: "I've been the drummer of Madison Rising for two years now. Our rock rendition of the 'Star-Spangled Banner' has reached 2.5 million hits on YouTube." . . . Dan Wasserman (see '09).
2012
Samantha Rae Fabricant (see '98). . . . Morgan Nees Van Baalen began Peace Corps service in Losotho in August. She'll be teaching chemistry, physics, and biology to secondary school students in rural areas of the southeastern African nation.