In Memoriam
TRIBUTE
Peter Lyman '47: A 'Humble' Rochester Legend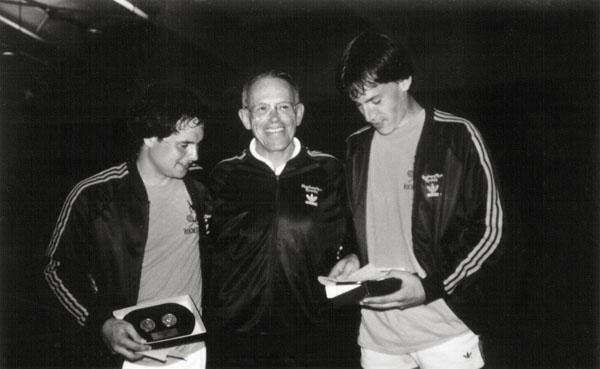 Somewhere amongst my disorganized papers exists an old color photograph taken in 1984 in a gymnasium that I think was in Tennessee. The photo shows me as a college sophomore, standing with my tennis coach, Peter Lyman, in an otherwise empty gym. We were on spring break with the tennis team, taking a southern swing in a van, and on this day our match had been rained out, so I'd walked into the gym to hit tennis balls against the wall. I'm wearing my Rochester tennis sweats, hands on my hips and weight on one leg. Peter is holding my tennis racquet outstretched, demonstrating to me a contact point.
That photograph has been a prized possession ever since. Peter, who died in September at the age of 87, coached the Rochester men's tennis team and the squash team for more than 40 years. Every kid who grew up playing tennis in Rochester, as had I, knew the legend of Peter Lyman. Our greatest aspiration (outside of Wimbledon, of course), was to win "Districts," the city-wide summer tournament played on the 22 clay courts at the Tennis Club of Rochester. Peter had won the District singles title 16 years in a row. The plaque that hangs on the wall at the Tennis Club of Rochester looks simply ridiculous with Peter's name written on it so many times, and with no other names in between his.
Only a debilitating case of rheumatoid arthritis could stop Peter from winning the title many more times. By the time I was 14 and playing tennis year-round, Peter had long since been stricken, resulting in a premature limp, hobbled curvature and gnarled hands. The rheumatoid arthritis had made him look older than he truly was.
But it never caused him to miss a day of work. Under his guidance, the tennis and squash teams excelled, and he coached numerous All-Americans in both sports. He received the Lifetime Achievement Award for intercollegiate squash in 1999 and national coach of the year for Division III men's tennis. Both of Rochester's recently built tennis and squash facilities bear his name.
Peter gave everything he had to his teams. But he did not give psychological pre-match speeches or put his ego in the way. I never heard Peter brag or draw attention to himself. He never needed the story to be about him. Instead, he let the story be about all of us. This gave us room to make mistakes and to grow. Above all else he was a perfectly humble man.
—John Illig '86
---
Illig is the men's and women's squash coach at Middlebury College and the former president of the Women's College Squash Association.