For Students
Rochester students make significant contributions to research. In the last year alone...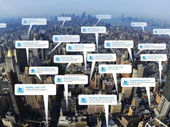 Twitter-based Big Data research by Adam Sadilek, doctoral candidate in computer science, made headlines around the world for predicting and explaining the spread of flu, and documenting how lifestyle affects health.
Maryia Fedzechkina, a doctoral candidate in brain and cognitive sciences, is lead author of a study suggesting that changes in human language are simply the brain's way of ensuring that communication is as precise and concise as possible.
Na Yang, a doctoral candidate in electrical and computer engineering, has developed a prototype for a smartphone app that can signal a person's mood just from the sound of a person's voice.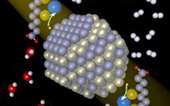 Zhiji Han and Fen Qiu, graduate students in chemistry, helped find a way to use nanocrystals to increase the durability of light-driven hydrogen-production systems.
Bobbi Carothers, a doctoral candidate in psychology, is lead author of a study showing that men and women may not be all that different after all.
Celeste Kidd, doctoral candidate in brain and cognitive science, is lead author of a study that made national and international headlines, by identifying the "Goldilocks effect" — the process by which infants learn to make sense of a world full of complex sights, sounds, and movements.
Xiao Tian, Michael Van Meter, and Zhonghe Ke, PhD students in biology, helped identify a protein that may hold the key to reversing age-related damage in human cells.
Youssef Farhat, a University of Rochester M.D. /Ph.D. student, won first place in a video contest sponsored by the Orthopaedic Research Society. Farhat's three-minute film explains how lives are touched by the study of the musculoskeletal system.
Abeer Abu-Zeitone, a Ph.D. candidate in the Translational Biomedical Science program won "Best Poster" at the American College of Cardiology's 2013 annual meeting – an award given to posters that score in the top three percent of those accepted. Abu-Zeitone found that different beta blockers are equally effective in reducing the risk of cardiac events in patients with Long QT Syndrome.
---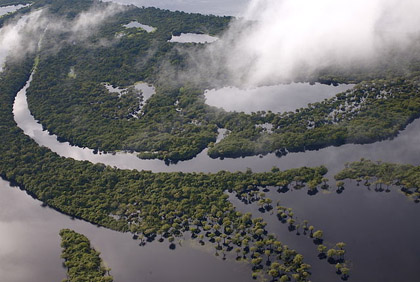 Jared O'Loughlin '13, spent the summer of 2012 in the Amazon with lecturer Wilson Silva, helping to document Desano, an endangered Native American language. "The experience was incredible," Jared relates. "I learned so many things that I could never have learned in a classroom."
The University of Rochester offers undergraduates like Jared plenty of opportunities to become involved in research projects...
The close proximity of the Medical Center and River Campus fosters interdisciplinary research opportunities for undergraduates through the Undergraduate Program in Biology and Medicine and Public Health-related Programs that feature majors in Bioethics; Epidemiology; Health, Behavior, and Society; and Health Policy.
Even 100-level classes in Anthropology include at least an option to design and carry out your own research project, involving skills of observation and analysis that can be valuable in many careers.
Chemical Engineering undergraduates can apply for summer internships helping faculty members conduct research on projects such as using drug-loaded nanoparticles to treat cancer, and producing ethanol from cellulose.
University Research and Innovation Grants provide research expenses of up to $3,000 for undergraduate students working with a faculty sponsor.
Past undergraduate recipients of the Barth-Crapsey research award have studied topics ranging from "Biases in the Uniform Code of Military Justice" to the way combat has impacted the lives of soldiers serving in Iraq and Afghanistan.
Recent undergraduate research projects in Physics and Astronomy have included "Infrared Spectroscopy of Protostars" and "Design and Construction of Frequency Stabilized External Cavity Diode Lasers."