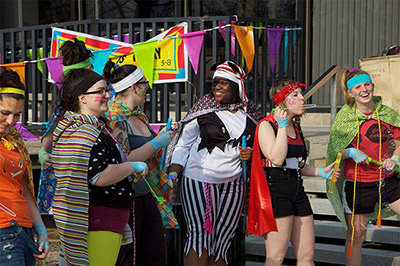 Sagefest 6 - Kill Your Hypothesis - set out to hyperbolize the debate between art & science. Read more about this boundary-blasting event.
Under construction: an 18-foot, rhinestone-encrusted replica drone
Rochester artists Heather Layton and Brian Bailey collaborated on the construction of a "social intervention" art installation, designed to foster discussion and reflection on the impact of remote war technology using unmanned drones.
The exhibit, titled Home Drone, challenged viewers to imagine their reaction if thousands of deadly drones had struck in the U.S.—specifically Massachusetts—rather than in Pakistan, Yemen, and Afghanistan.
See more about this exhibit