Athletic Hall of Fame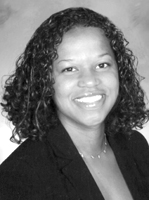 Amber Lee Scott
'95
At Rochester:
One of the most accomplished and honored women's soccer players in University history
Came to the University after playing soccer at Pittsford Sutherland High School
She earned All-UAA and All-New York State honors for three seasons (1992-94) and All-Northeast Region honors in 1993 and 1994
Her awards culminated with her selection as a Second Team All-American in 1994
Won a Lysle "Spike" Garnish Award in the Fall 1994 semester
Earned her B.A. in English in 1995
Post-Graduate:
She was a member of the University's Trustees Council from 1995-98
Received an M.A. in higher education administration and adult studies from the University of Denver in June, 2002
Worked in the sports information field at three institutions (assistant sports information director, Buffalo State 1996-97; athletic communications intern, Pennsylvania, 1997-98; and assistant sports information director, Xavier, 1998-2000)
Graduate resident director at the University of Denver, 2000-2002
Since 2002, she has been a business development manager for OfficeMax Enterprise Solutions in Aurora, CO.