Athletic Hall of Fame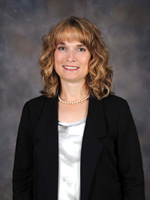 Jennifer DePrez Spiker
'94
At Rochester:
A decorated soccer player who reached the NCAA National Championship game and Regional finals with the team during her career
Named to the NCAA All-Tournament Team in 1991
Earned All-Conference honors in 1991 and 1993
Two-time New York State All-State selection and an All-Northeast Region athlete
Rochester Press-Radio Club, Female College Athlete of the Year Runner-up in 1991
Came to Rochester after playing at Monroe Community College earning a number of accolades there, including a National Championship, National Player of the Year, and All-American honors
Post-Graduate:
Continued her playing career with the USWISL Rochester Ravens Semi-Professional Team in their inaugural season
Served as an assistant soccer coach at Rochester for a year before going on to West Virginia Wesleyan College in that same role
Following a season there, Spiker spent the next 11 years on staff at West Virginia University
Received the AFLAC National Assistant Coach of the Year Award in 2003
Has also coached on the Region 1 staff of the Olympic Development Program
Has been inducted into the Hilton Central High School Sports Hall of Fame as well as the Monroe Community College Sports Hall of Fam. 
Earned her Master's from West Virginia University in 2004
Currently a volunteer assistant coach with the Army Women's Soccer program
She and her husband Zach reside in West Point, New York on the campus of the United States Military Academy. They have three children, Charlie, Tucker and Henry.