Camps & Clinics: Baseball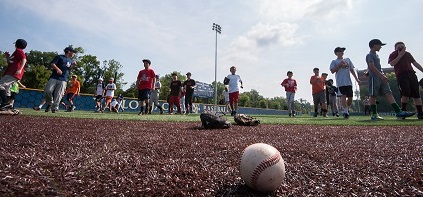 University of Rochester Top Prospect Baseball Camp
July 10-13, 2017
The players at the Top Prospect Baseball Camp will get week long instructions from some of the best baseball people around. We maintain a small staff to camper ratio that will allow each camper to get individual instruction during their time here. Our groups are broken down by age and ability level. We do reserve the right to move players up or down based on the abilities of the group. Lunch will be provided in one of our renovated cafeterias.
Little Jackets- Ages 6 & 7
Minors– Ages 8-9
Majors- Ages 10-12
The Show– Ages 13-15, 16-18
The 16-18 year old group is great way to showcases skills in front of the UR Coaching staff for recruitment
Cost:
Day Camp (9am-4:30pm)- $260
Camp starts at 9am and pick up is at 4:30pm with lunch at noon.