Mark Zupan to 'Pass the Baton' as Dean When Term Expires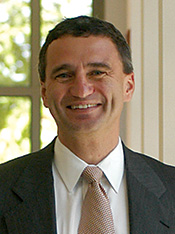 Mark Zupan has notified President Seligman that he will serve as Dean of the Simon School of Business until June 30 when his term expires and then take a year's sabbatical. Seligman thanked Zupan for "a magnificent job" and announced that after Zupan's sabbatical he will become the John M. Olin Distinguished Professor of Economics and Public Policy and director of the Bradley Policy Research Center at Simon.
Read Zupan's and Seligman's letters to the Simon faculty, students and staff, below.
---
Mark Zupan's Message to the Simon Community

Dear Simon Students, Faculty, and Staff:
Educational institutions have their natural rhythms. The fall term reminds us of those rhythms as our students begin their studies with great expectations for the future and how a rigorous Simon education will prepare them to pursue their professional dreams in today's challenging and dynamic marketplace. We are delighted to welcome them to campus and we treasure the opportunity, as faculty and staff, to work with them in the pursuit of their dreams.
The fall is also a time of taking stock and being grateful for what we have been given. We are beginning our 55th year as a business school and our 27th year carrying the name of William E. Simon, an iconic entrepreneur, Wall Street financier, private equity innovator and leader, treasury secretary under two presidents and energy czar under one, U.S. Olympic Committee president, best-selling author, and pioneering philanthropist.
As the 2013-2014 academic season begins, I have let President Seligman know that I will be ready to pass the baton of leadership to the next dean of the Simon School come July 1, 2014. In doing so, I am grateful for all that you have helped us to achieve including:
Record enrollments of highly qualified students who have come from nearly 60 different countries around the globe on account of their confidence in what a Simon education will allow them to achieve.
A faculty that has grown by 9 net new tenure-eligible members over the past five years and continues to have a significant impact on management theory and practice in areas as wide-ranging as social-media-based marketing, pricing, telemedicine, stock market volatility, entrepreneurship, unfunded state and local pension liabilities, and strategy.
Supportive alumni, friends, faculty, staff, and even existing students who have thus far committed nearly $62 million in gifts/commitments toward our $85 million target as part of the University's $1.2 billion Meliora Campaign. Their support has allowed us to add 10 new professorships to a base of 9 that existed prior to the Campaign. We have added $1.1 million in annual philanthropic scholarship support to a pre-existing base of $440,000 per year for a total of over $1.5 million that we can now award with each academic year. Finally, philanthropic venture capital has allowed us to build a stronger ecosystem for developing future entrepreneurs and also a presence in New York City through a major annual conference and degree programs for working professionals.
Over 425 alums/friends/faculty/staff/students supporting Simon through the George Eastman Circle (versus a goal of 300 in our existing strategic plan) and a record of $1.5 million in Annual Fund discretionary support last year.
Curricular innovations such as our Masters of Medical Management and PMBA programs that have seen strong student demand and allowed us to better serve our local marketplace.
The development of a robust financial model for our School. Last year represented the third consecutive year that Simon recorded no more than a 5.5 percent endowment draw.
An emerging strategic plan for the next five years that includes such key components as: differentiating our curriculum on the basis of data analytics and critical thinking, beginning with our flagship, full-time MBA program; a soon-to-be-launched branding campaign to build our School's visibility by highlighting what distinguishes a Simon education (the plan won the unanimous endorsement of our faculty – a rare occurrence! – at a meeting last month); expanded undergraduate business offerings in partnership with the College so as to improve the quality of the education that we provide while diversifying our programmatic portfolio (38 of the top 50 business schools have such an array of offerings and I am pleased to report that our faculty, virtually unanimously, supported such a move at a meeting earlier this month); and the development of a second home in New York City (we launched our second program for working professionals this summer through our Times Square location, attained State Department of Education approval as an Extension Center, and are now working to establish a branch campus in the world's financial and media capital).
Educational institutions are as close as one can get to the proverbial fountain of youth, and having had a decade to stay young at heart through interacting with so many talented, ambitious, innovative, and caring individuals as the dean of the Simon School is a gift that I will always cherish.
I look forward to working with all of you in the meanwhile to ensure a successful transition to our 7th dean and am confident that the capabilities and dedication of Simon's faculty, students, staff, alumni, and friends will ensure that our School becomes even stronger over the academic seasons to come.
Meliora!
Mark
---
President Seligman's Statement
September 17, 2013

For close to ten years, Mark Zupan has done a magnificent job as Dean of the Simon School of Business.
Mark has advised me that he will serve as Dean until June 30, 2014, when his term expires, and then take a year's sabbatical.
His legacy is an inspiring one. 
When he arrived, the Simon School faced a "perfect storm" with a combination of significant declines in MBA and Executive MBA enrollment and a non-sustainable endowment draw.  Mark deserves great credit for reversing the fortunes of Simon's MBA program, building several successful new master's programs, and achieving our target endowment draw now for several years running.
Mark was particularly effective reaching out to alumni and friends of Simon and supporting Simon's students.  Simultaneously during his deanship, Simon has begun a broad generational change, hiring several tenure-eligible faculty during the last few years and helping the School build new strengths in important and emerging business areas, including pricing, data analytics, entrepreneurship, and unfunded state and local government pension liabilities, while maintaining Simon's long-time strengths in finance, accounting, marketing, and strategy.
It is very rare for a business school dean today to serve ten years.    As one who also served as dean for ten years, I personally appreciate the hard work, discipline, and tough decisions involved in being as successful a dean as Mark has been, particularly during challenging economic times.  More than anything else, Mark deserves our gratitude for a job well done.
I look forward to Mark's remaining on the Simon School faculty after he enjoys a sabbatical year in 2014-2015.  I am pleased to announce that Mark will become the John M. Olin Distinguished Professor of Economics and Public Policy and will be the Director of the Bradley Policy Research Center when he returns to the faculty. 
The Simon School is a consequential part of the University of Rochester.  I will chair the Dean Search Committee that selects Mark's successor.  I soon will have a further announcement about the membership of that committee.