International Students Returning from Leave or Withdrawal
To allow time for I-20 and possibly visa issuance you should begin this process in the semester prior to the semester you plan to return, preferably in March for fall semester and October for spring semester. Requests for re-activation should be submitted no later than November 1 for the spring semester, and July 1 for the fall semester. Requests for readmission, should be submitted no later than November 1 for the spring semester and May 1 for the fall semester. Your first step is to contact CCAS by emailing asechangeofstatus@ur.rochester.edu, to let us know of your intention to return.
If you've been away for less than 5 months, your next step is to fill out the International Services Office's (ISO) Leave of Absence form, check the box for "Return from short-term Leave of Absence," and email it to Qiuyi Wang at qiuyi.wang@rochester.edu.
If you've been away for longer than 5 months, you will need to request a new I-20.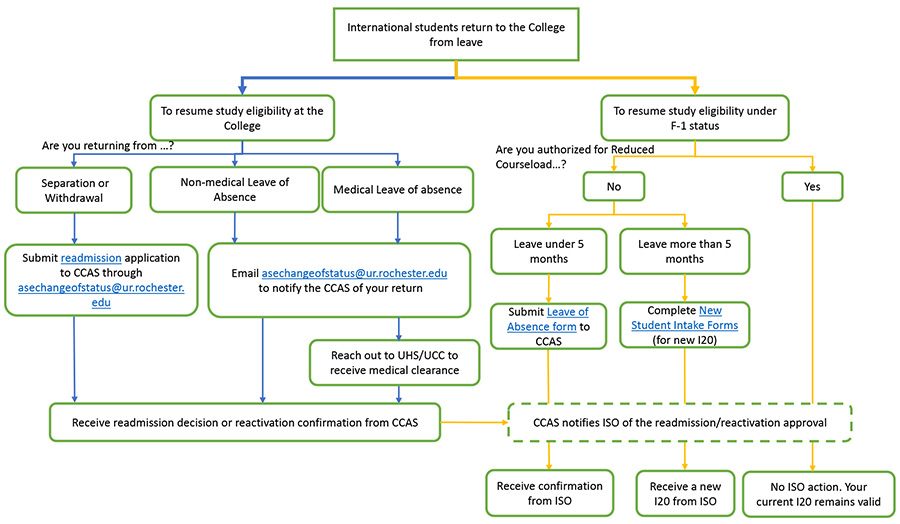 Requesting a New I-20
Read the New Student Intake Forms: Instructions and Required Information page. If you have any questions regarding the process email Qiuyi.Wang@rochester.edu.
Please prepare the following documents in advance:
Passport photo ID page.
Recent bank documents for one year's tuition and fees
A sponsor letter from the account holder indicating that the funds are available to you for your education costs at the University of Rochester (this is only required if the bank account isn't in the student's name).
The start date on your I-20 will be the day classes begin in the semester you are returning. If you are requesting to return during a summer session, please be aware that you need to enroll full time in the summer for a total of 12 credits.
If you have specific questions about travel, your I-20, or visa, you should contact ISO directly at questions@iso.rochester.edu or +1 (585) 275-2866.
On-Campus Housing
After you have been reactivated or readmitted by CCAS contact the Office for Residential Life and Housing Services directly to request on-campus housing as soon as possible. On-campus housing is limited please request early.
Register for Classes
After you have been reactivated or readmitted by CCAS you may register for classes online through UR Student as long as there are no financial or other holds on your record. Use your NetID and password to login. See the registrar's schedule page for specific information about when to register for courses. The following contacts can help if you need assistance in any of the steps above:
University IT for assistance with NetID or password
Undergraduate advisor or your department's undergraduate coordinator for advisor holds or course selection questions
Bursar's Office for questions about payment, billing, and financial registration holds
Returning from Medical Leave
Students who leave for medical reasons are expected to consult with UHS/UCC to discuss their request to return. Every case must be evaluated individually. Students should contact UHS/UCC well before the deadline to discuss their plans to return. The dean of the College, following the recommendation made by UHS/UCC, will make a final decision regarding reactivation or readmission.
Health Insurance and Health History
Before coming back to the University, you must either enroll in the University Health Insurance Plan or request a waiver. Both can be done online through the University Health Service (UHS) website.
You are also required to complete the Health History Form, which will be mailed to you with your I-20. You can either return the form to UHS by mail or bring it with you when you return to campus and then submit it to UHS immediately upon your arrival.
See UHS's FAQ page for more information about these requirements.