Best Practice Article Series
A brief introduction to search engine optimization (SEO)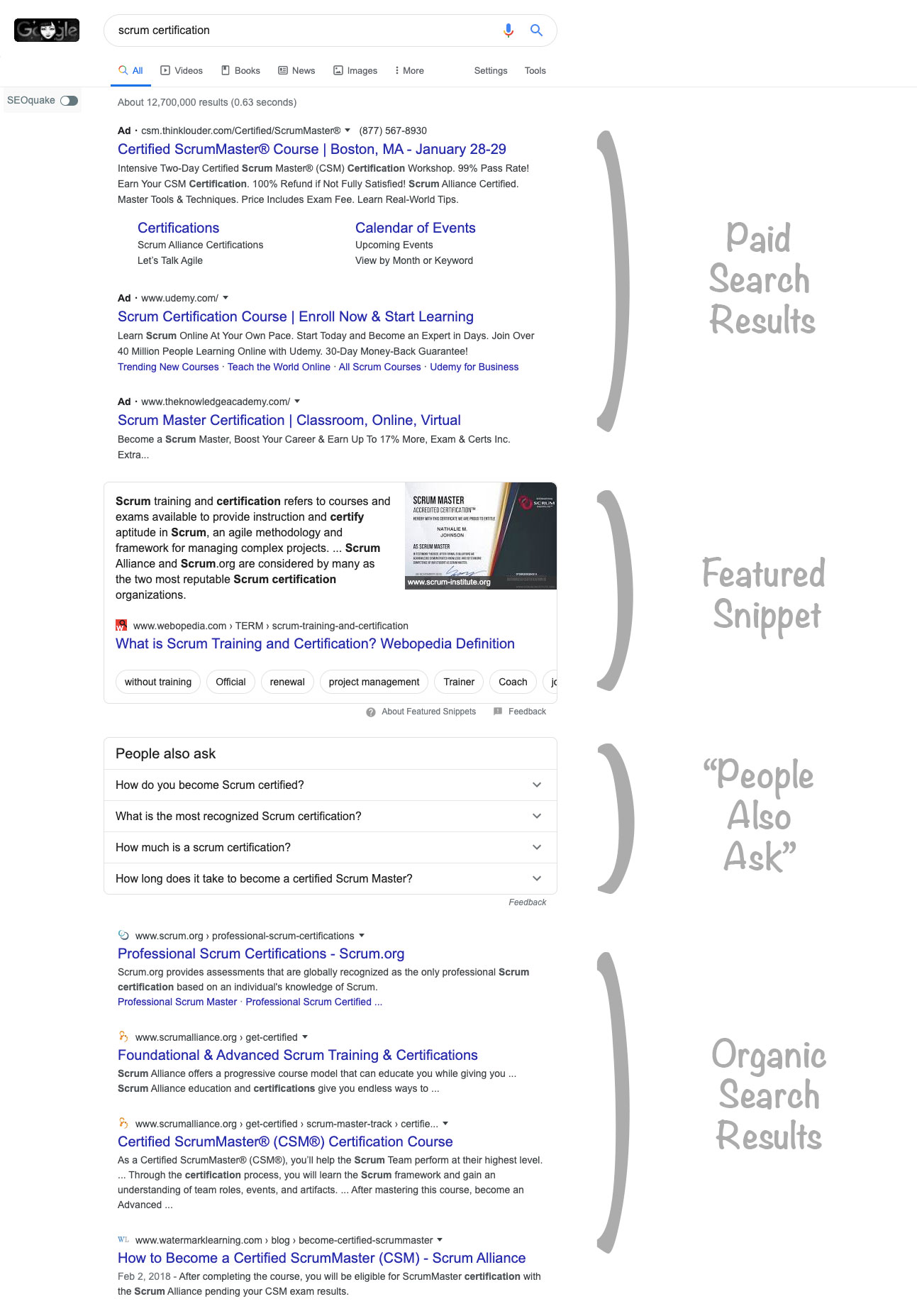 Search engine optimization is one of the most useful tools when it comes to digital marketing. That's because internet searches—most often using a search engine like Google, but also ones like Bing and Yahoo, and even voice-activated devices like Alexa—are a common starting point when people online want to answer a question, solve a problem, or go somewhere specific: "Where is the Super Bowl this year?" "How do I renew my passport?" "What is the New York Public Library's hours?"
There are thousands, even millions, of web pages that have information or content related to a given search term or query, also referred to as a keyword or keyphrase. That's why Google and other search engines use algorithms, machine learning, and big data to sort through those individual pages and rank them according to how useful or helpful they are.
According to Google, the resultant rankings—which appear on Search Engine Results Pages (SERPs)—take into account the:
Meaning of the original search query – What is the person's intention? What do they actually need and want? How specific or broad is the search? Is it a trending topic? Different search queries and keyphrases align with different visitor intentions and needs.
Relevance of the web pages – Does the page contain the information the person is looking for? Is that information thorough and thoughtful? Are keywords and semantically related phrases used in the content? Google considers pages with fewer than 300 words or so to be "thin" content that is not likely to answer the visitor's question or solve their problem. As a result, thin content is less likely to rank well.
Quality of content – The Google search algorithms "prioritize the most reliable sources available." This means that results from websites that demonstrate trustworthiness, credibility, and authority are prioritized in the search rankings.
Usability of web pages – Does the website and web page appear correctly in different browsers or on different devices? Does the page load quickly? Google wants to ensure as many people as possible can view and use the results.
Context and settings – Google can take into account your device's search history and location information to personalize search results. 
Search engine marketing
Search engine marketing (SEM) is a combination of two approaches meant to drive traffic through search results:
Paid search, sometimes referred to as "pay per click" or "cost per click." These are results that appear at the top of the SERPs but that have "Ad" next to the page URL. In other words, an institution or organization pays to have its results appear first.
Organic search, which is what we primarily mean when talking about search engine optimization (SEO). Ideally, you want your results to appear on the first page—among the first ten results—of SERPs.
Organic search comprises queries that are usually either branded or unbranded:
Branded queries are keywords or keyphrases that include your institution's name, nickname, or other brand identifier. For example: "university of rochester medical school" is a branded keyword phrase. Not surprisingly, the University's School of Medicine and Dentistry comes in as the number one result when searching for that branded keyphrase.
Unbranded queries are keywords or keyphrases not unique to a specific brand (e.g., "best medical schools in the US" or "top medical schools near me").
SEO at the University of Rochester
It's worthwhile to remember that the two main factors that influence search engine rankings are the website's domain authority and the individual page's relevance.
Fortunately, the University as a whole has solid domain authority. In other words, Google considers us a credible, established, and authoritative website, which improves the chances of our individual pages ranking well in search results—but only when those individual pages are relevant. Relevant pages consist of high-quality content that incorporates specific and appropriate keywords and keyphrases in the right places, including the title tag, URL, meta description, headings, body copy, alt text, etc.
When it comes to SEO, the University overall does well with ranking for branded keyphrases. Our challenge now is to rank for nonbranded keyphrases—ones that align with people's search queries while also being relevant to us as an institution. Doing so can result in consistent traffic to our web pages, thereby increasing awareness about the University, which can in turn help with admissions, recruitment, fundraising, and other strategic institutional priorities. 
SEO for AS&E websites 
The Arts, Sciences & Engineering Web Communications team works closely with University Communications on institution-wide SEO efforts. Our team can help to: 
Ensure that the technical aspects of your website are optimized for search engines
Monitor and analyze your website traffic
Research target keyphrases and their semantically related variants
Optimize web pages for the appropriate keyphrases to better indicate their relevance to search engines
Create original content to help rank for unbranded keyphrases
Collaborate with others to help increase rankings
Consult on paid search opportunities
Share SEO-related tools and resources
We encourage you to connect with us to see how SEO can be an effective part of your team or department's digital marketing strategy.
---
Sofia Tokar is the web writer and communications officer for Arts, Sciences & Engineering at the University of Rochester. You can reach her at sofia.tokar@rochester.edu.