Remembering Paul Burgett
Musician, scholar, teacher, and University leader for over half a century, Paul Burgett served as University vice president, general secretary to the Board of Trustees, and senior advisor to the president.
Paul Burgett earned BM, MA, and PhD degrees from the Eastman School of Music at the University of Rochester. His doctoral dissertation treated the aesthetics of the music of Black Americans, a subject that occupied him over 40 years as a teacher and scholar.
In 2014, the University named the Paul J. Burgett Intercultural Center in recognition of Burgett's commitment to social justice at the University and globally.
Remembering Paul Burgett "Passion and ability drive ambition."
"An intercultural product from birth…. The son of interracial parents who were unable to be married in Missouri because of anti-miscegenation laws but who saw to t that their boy would not only benefit from growing up in the Black community of St. Louis, but who also would have the extraordinary advantage of participating in a diverse cultural world of music, the arts and ideas, and who would benefit from exposure to and absorption of the cultural sacraments of various ethnic communities. All of this enabled in me social, cultural and intellectual fluency and understanding. My years at the University have only reinforced and deepened those earliest experiences. These taken together, along with thirty-five continuous years of travel to the four corners of the globe, have yielded for me a promethean view of the complex and splendid dimensions of the human situation and enabled me to add value to the University's auspicious mission… a privilege indeed. For that I will be enduringly grateful…"
Paul Burgett was a tireless advocate for the Gateways Music Festival, a multi-day series of concerts, performances, and other events featuring classical musicians of African descent. At the time of his death, he was chair to the Gateways Board of Directors.
Instagram Images
The content in these images is written out above.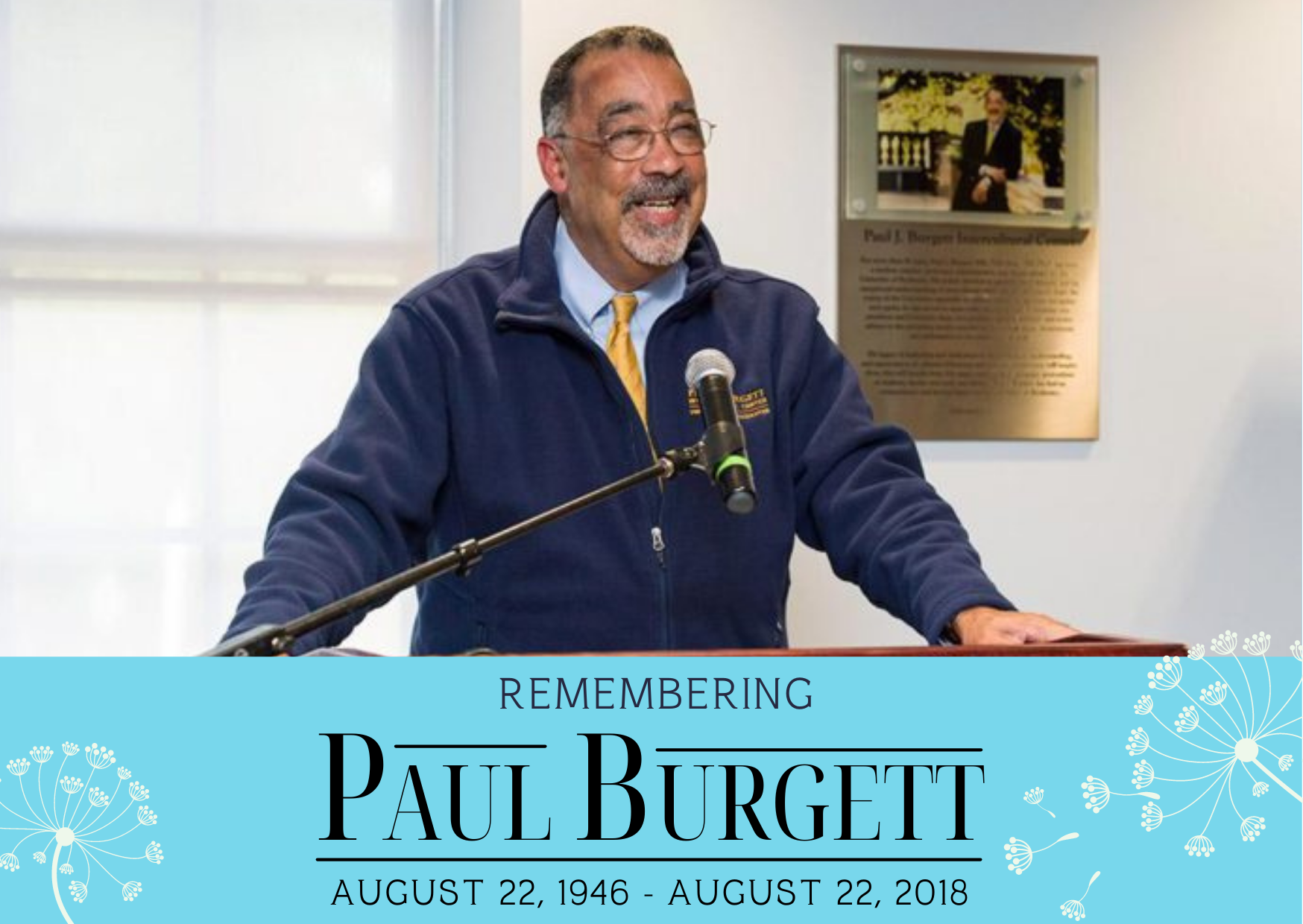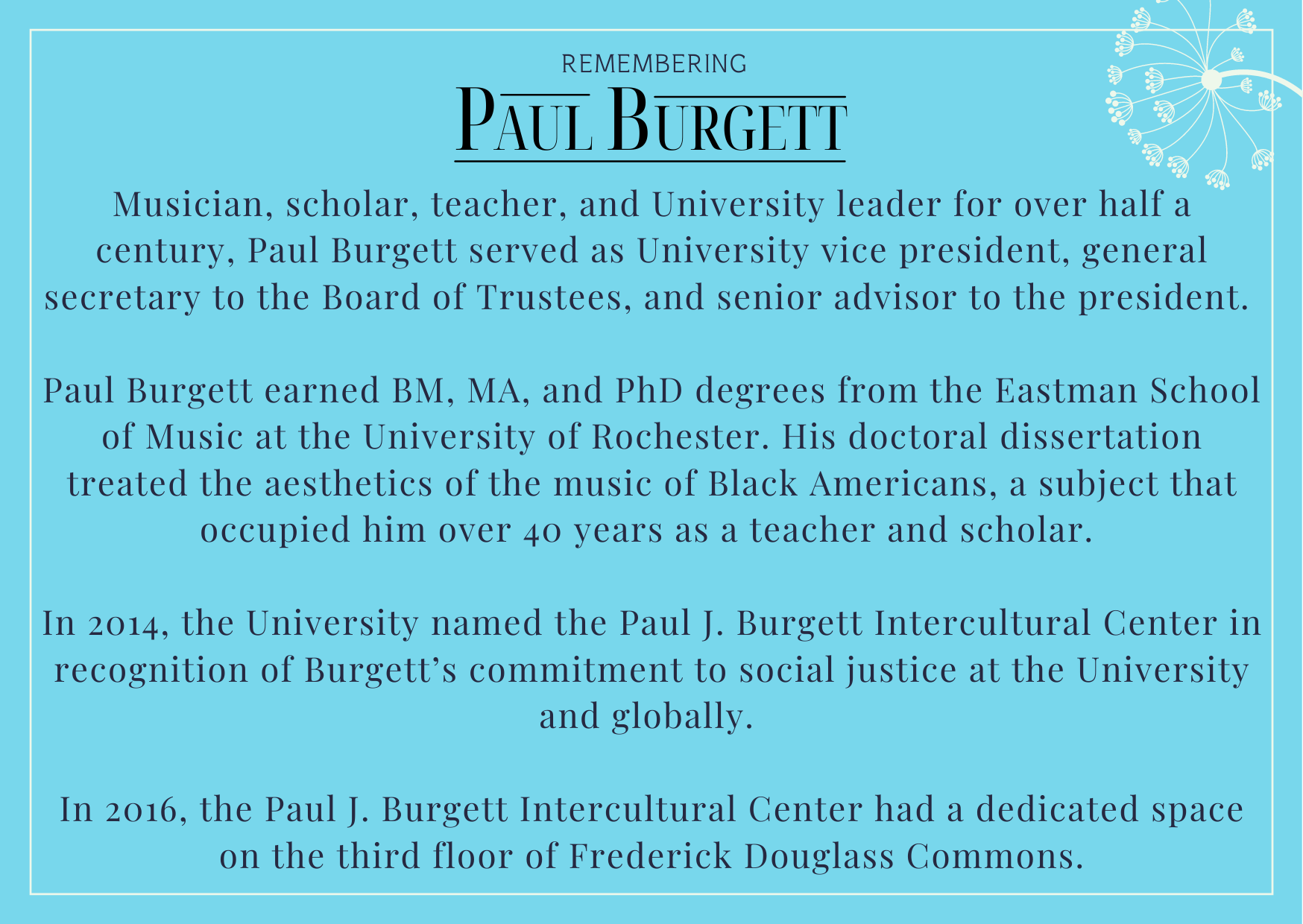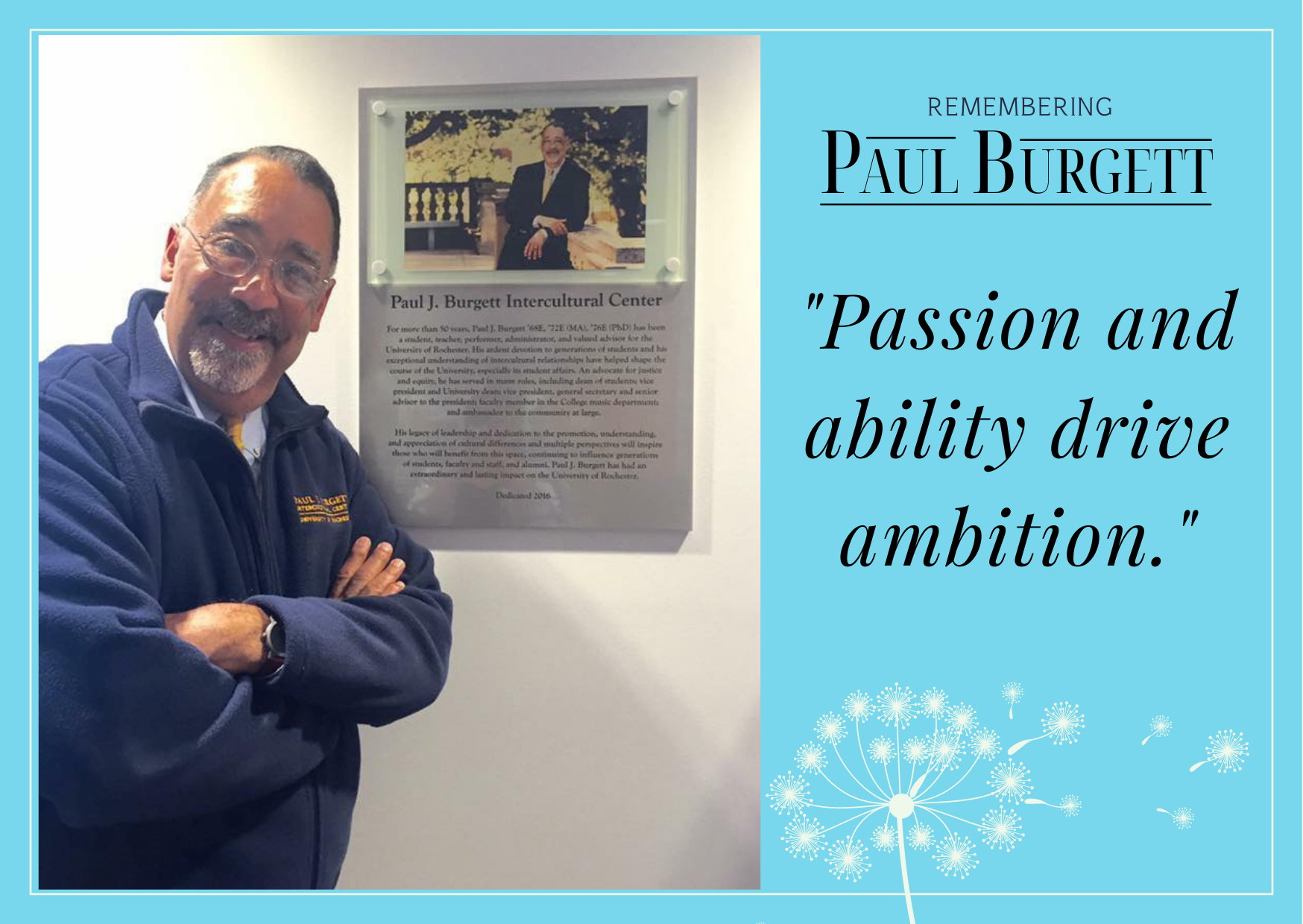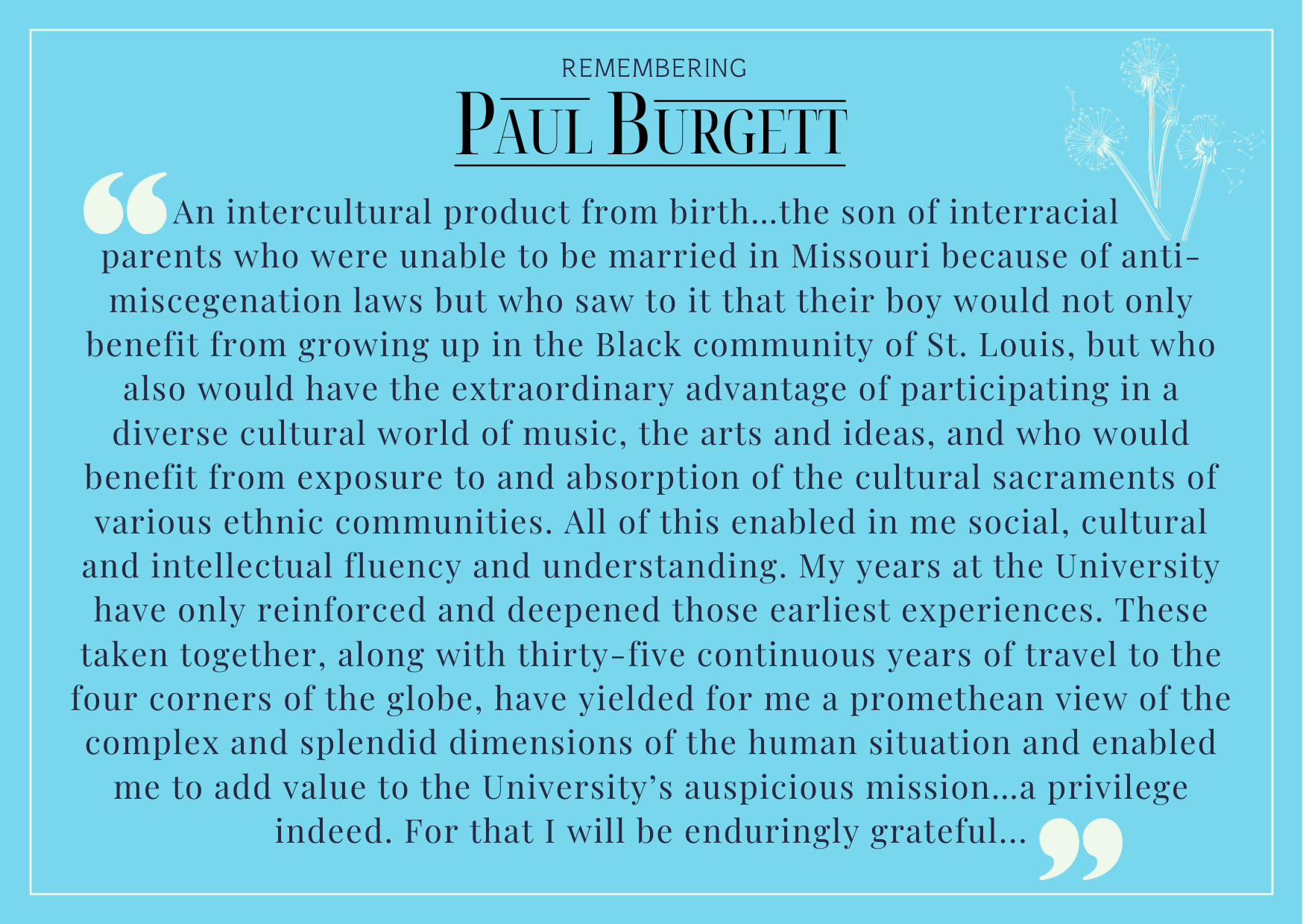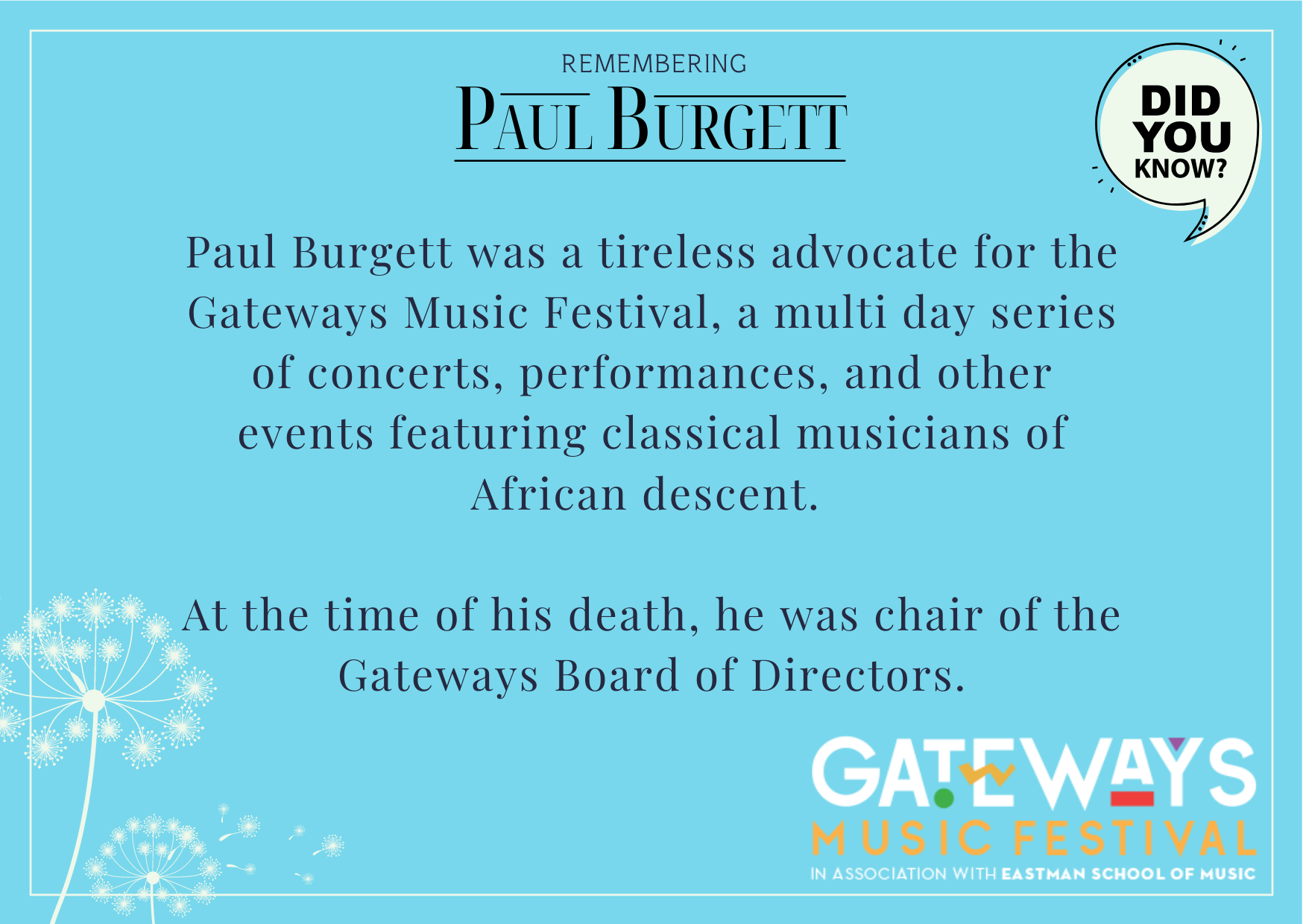 Tribute
We are deeply saddened to hear the news regarding the passing of Dean Paul Burgett. As our namesake, Dean Burgett embodied the sentiment of inclusion. His warmth, his light, and his laughter made all who were graced with his presence feel like they were part of something better. Words cannot encompass what his loss means to the University and community at large. He will be forever loved and forever missed!
—Jessica Guzman-Rea '10W (EdD)
Assistant Dean for Diversity, AS&E and Director, Paul J. Burgett Intercultural Center
See the University's Remembering Paul Burgett page to learn more about his life and legacy.