Clinical Care
U.S. News Ranks Golisano Children's Hospital Programs Among Nation's Best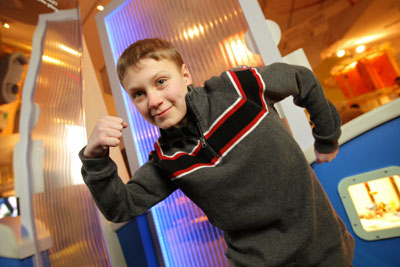 The Golisano Children's Hospital at the University of Rochester Medical Center has been named among the nation's premier hospitals for pediatric orthopaedics, neurology, and neurosurgery by U.S. News & World Report. The 2010 America's Best Children's Hospitals, published in the August print version of the magazine as well as online, is the most extensive listing of its kind, ranking 160 pediatric hospitals in 10 specialties.
READ MORE: Children's Hospital Tops in Orthopaedics, Neurology & Neurosurgery June 3, 2010
---
Access to Orthopaedic and Rehabilitative Care Expanded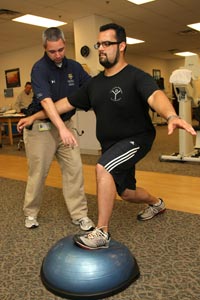 The University of Rochester Medical Center expanded services and access to musculoskeletal care by opening a new center for comprehensive musculoskeletal treatment and recovery in the nearby town of Greece in March 2010.
The 8,000-square-foot facility offers specialty care in orthopaedics, physiatry, sports and spine rehabilitation, hand and upper-extremity rehabilitation, and imaging services to adults and children, along with daytime urgent care for injuries.
READ MORE: University Expands Orthopaedic and Rehabilitation Care with Center in Greece March 17, 2010
---
Medical Center Opens Upstate's Largest Ambulatory Surgery Center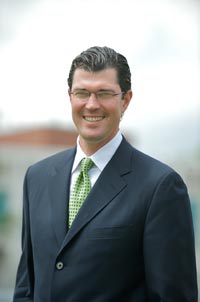 Maloney
In the summer of 2009, the Medical Center opened upstate New York's largest hospital-affiliated ambulatory surgical facility. The Surgery Center responds to the sharply rising demand for outpatient surgical care, which by 2005 already constituted 50 percent of all surgeries performed at the Medical Center.
"Outpatient surgical centers have defined a new standard of care that patients have come to expect," said orthopaedist Michael Maloney, the director of the center. "We are adopting that model to optimize care and service for patients. Because we'll be performing only elective, prescheduled surgeries, we won't be forced to shift schedules to accommodate emergencies. This will allow us to operate efficiently and be more sensitive to the needs of our patients and their family members."
READ MORE: URMC Unveils Upstate New York's Largest Ambulatory Surgery Center July 30, 2009
---
Silvio O. Conte Center for Study of OCD Opens

In September 2009, a center devoted to the study of obsessive-compulsive disorder (OCD) opened at the Medical Center. Named for the late Massachusetts congressman who was a longtime champion of neuroscientific research, the Silvio O. Conte Center is supported by a $10.5 million grant from the National Institute of Mental Health and is part of the University's Ernest J. Del Monte Neuromedicine Institute.
READ MORE: $10.5 Million in Funding Creates Center to Study OCD Sept. 30, 2009

VIDEO: Obsessive Compulsive Disorder and Deep Brain Stimulation
---
Wilmot Cancer Center Performs First Outpatient Stem Cell Transplant
In August 2009, physicians at the James P. Wilmot Cancer Center performed the first outpatient stem cell transplant in the Rochester region. The patient, a Bloomfield, N.Y., man who had been diagnosed with multiple melanoma, received two rounds of autologous transplants—transplants using a patient's own, previously removed stem cells or marrow.
Outpatient transplants, which allow patients to recuperate at home, require close communication among medical and family caregivers. Says Gordon L. Phillips II, MD, PhD, director of the Wilmot Center's Samuel E. Durand Blood and Marrow Transplant Program, "This is a significant step forward that we've been able to make because of the safety measures and support systems we've put in place for our patients."
The Samuel E. Durand Blood and Marrow Transplant Program is the only program of its kind in the Rochester and Finger Lakes region and the second largest such program in the state, following the Memorial Sloan Kettering Cancer Center in New York City.
READ MORE: Wilmot Cancer Center Performs 1st Outpatient Stem Cell Transplant Aug. 26, 2009
---
Healthy Living Center Established
The Medical Center launched in March 2010 the Healthy Living Center—an initiative that conducts research and offers clinical programs to help members of the community adopt healthier lifestyles.
In particular, the center designs, evaluates, and implements programs to decrease tobacco exposure, increase physical activity, improve nutrition, and increase adherence to medications. Part of the Center for Community Health, the Healthy Living Center includes conference rooms, exam rooms, a teaching kitchen, and a physical activity space. The center's research mission is supported by a $1.2 million grant from the National Institutes of Health.
"The Healthy Living Center represents a unique marriage of clinical behavior change services and behavior research," says Nancy M. Bennett, MD, director of the Center for Community Health and professor of medicine. "It will address the fundamental questions of how to motivate people to make healthy choices in their lives and how to take programs that we know are effective and ensure that they are being adopted on a communitywide basis."
READ MORE: New URMC Program to Focus on Health Behaviors Ref. 8, 2010