Leadership
Leadership and Diversity Center Expands Its Reach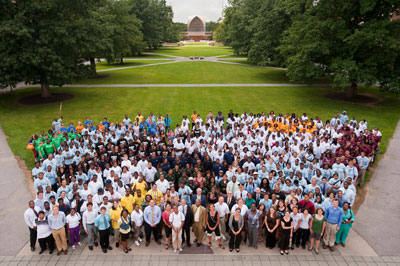 Since its inception in 2001, the David T. Kearns Center for Leadership and Diversity in Science and Engineering has provided underrepresented students studying science, technology, engineering, and mathematics with academic and co-curricular support. Now the center's reach has expanded to include students in areas throughout the College.
Under a new name—the David T. Kearns Center for Leadership and Diversity in Arts, Sciences and Engineering—the center will now assist an increased number of low-income, first-generation, and underrepresented minority students without conditions on their fields of study.
READ MORE: Leadership and Diversity Center Expands its Reach Sept. 23, 2009
VISIT THE SITE: www.rochester.edu/college/kearnscenter
---
Fulfilling a Vision
The University honored a few of the prominent supporters of the Eye Institute last fall, recognizing them for their commitment to the institute's growing influence in vision care and research.
In recognition of the ongoing support of Rochester businessman and philanthropist David Flaum and his family, the institute has been renamed the David and Ilene Flaum Eye Institute.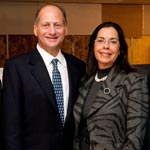 David and Ilene Flaum
"I've always been interested in the science of vision and know personally the transformative power of improved sight," says Flaum, the founder and CEO of the Rochester-based real estate development company Flaum Management Co. He's also a University trustee and a member of the Medical Center's board.
Also last fall, the Adeline P. Lutz Pavilion was dedicated in honor of Rochester resident Adeline Lutz and her late husband, Walter (Jack) Lutz. Lutz began having vision problems in 1987 and has undergone a series of 13 surgeries at the institute.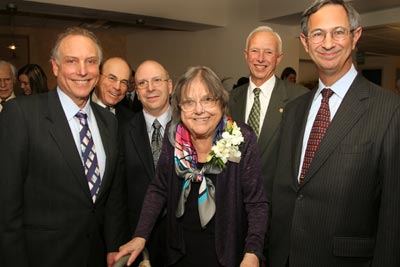 From left: Steven Feldon, Edmund Hajim, Mark Taubman, Adeline Lutz, Robert Goergen, Joel Seligman
In tribute to Lutz's corneal surgeon, Steven Ching, MD, a professor of ophthalmology, and the entire institute staff, the Lutzes decided to donate most of their savings to the institute.
"They are like family to me, and I credit Dr. Ching with saving my sight," says Lutz. "For a patient to support us in this way, it is truly overwhelming," says Ching.
READ MORE: Introducing the Flaum Eye Institute Rochester Review: January–February 2010
VISIT THE SITE: www.urmc.rochester.edu/eye-institute/
---
Building an Inclusive Community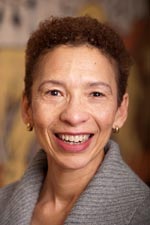 Lewis
All the University's constituencies came together in April for the first Universitywide diversity conference, "Building a Stronger Community."
The conference was organized by the new leader of the Office of Faculty Development and Diversity, Vivian Lewis, MD. A professor of obstetrics and gynecology at the Medical Center since 1991, Lewis served as the associate dean for faculty development for women and diversity at the School of Medicine and Dentistry prior to her current appointment.
READ MORE: University of Rochester Conference Focuses on Building a Stronger Community through Diversity, Inclusion Efforts March 31, 2010
READ MORE: Vivian Lewis Selected to Lead University of Rochester's Faculty Development and Diversity Initiatives
---
School of Medicine Invests 10th Dean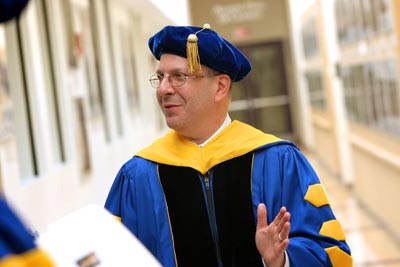 Charles E. Dewey Professor of Medicine Mark Taubman, MD, was formally invested as dean of the School of Medicine and Dentistry at a ceremony in May.
Medical Center CEO Bradford Berk, MD, cited Taubman's stature as a strong academic leader with an institution-wide perspective as the reason for his appointment.
"Mark Taubman is a skillful cardiologist, scientist, and academic leader," Berk said at the investiture ceremony. "Since joining the University in 2003, he has helped to bolster Rochester's research standing, strengthened patient services, and is now establishing the School of Medicine and Dentistry as a place where outstanding faculty and physicians can do their best work."
READ MORE: School of Medicine and Dentistry Invests 10th Dean May 5, 2010

VIDEO: Comments from Mark Taubman

PHOTOS: Photo Gallery
---

Bruning

Ferrari

Pizzo

Wegman
Four Leaders Join Trustees in 2009–10
A prominent optics entrepreneur, an accomplished surgeon and lawyer who became a strategist for multinational corporations, a noted medical scientist and medical school dean, and a leading Rochester business executive have joined the Board of Trustees.
John Bruning, the retired president and CEO of Corning Tropel Corp.; Bernard Ferrari '70, '74M (MD), a former director and partner in the global management consulting firm of McKinsey & Company; Philip Pizzo '70M (MD), the dean of Stanford University's medical school; and Daniel Wegman, the CEO of the Rochester-based supermarket business Wegmans Food Markets Inc., are the University's newest trustees.
READ MORE: Physician and Corporate Consultant Joins Board of Trustees Oct, 27, 2009
READ MORE: Three Leaders Join University of Rochester Trustees Sept. 1, 2009
---
Hajim School Dedication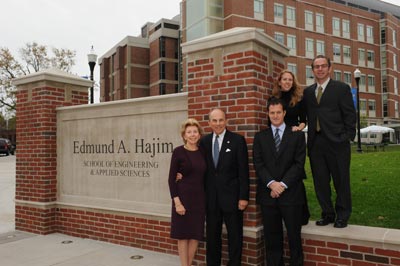 Board of Trustees Chairman Ed Hajim '58— joined by his wife, Barbara; their daughter, Corey; son-in-law, Jim Sperber; and son, Brad (far right)—attended the official dedication of the Edmund A. Hajim School of Engineering and Applied Sciences during Meliora Weekend 2009. The new name honors Hajim for his $30 million gift commitment in 2008—the single largest ever received by the engineering school.
It was a landmark year for giving in 2009–10, as well, when support from almost 37,000 alumni, parents, and friends provided $10.5 million to the Annual Fund, a more than 13 percent increase in one year. Unrestricted annual giving—which benefits student experiences, medical care, and community programs—has doubled in five years, a historic achievement.
READ MORE: University of Rochester's Engineering School Named for Edmund A. Hajim May 15, 2009