Community
Celebrating the Opening of Kodak Hall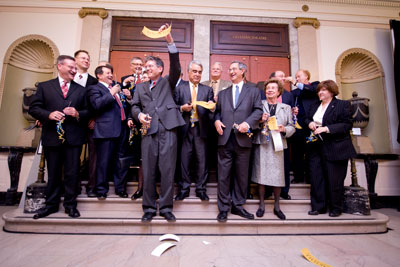 It's a new era for the transformed Kodak Hall at Eastman Theatre, the Eastman School's premier performance space. While the hall retains its grand elegance from 1922, renovations— including orchestra- and mezzaninelevel boxes and reshaped walls—update acoustics and improve patron amenities. With the removal of some 800 seats in back rows, concertgoers now enjoy more comfortable gathering spaces, including an expanded inner lobby and five new lounges.
READ MORE: The "Eastman Evolution Rochester Review, November–December 2010

PHOTOS: New Eastman Wing Celebration
---
Rochester's Civil Rights Struggle Preserved in University Web Site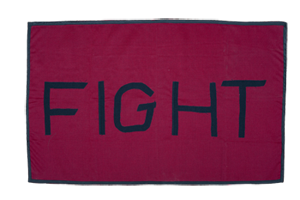 By any measure, the race riots of 1964 were a turning point in Rochester's history. Three nights of rioting left 4 people dead, 350 injured, and more than 800 arrested. They also broke through complacency toward racial discrimination, and the city became the birthplace of several civil rights strategies that would serve as models across the nation.
To capture this critical chapter in civil rights history, the Department of Rare Books and Special Collections has launched the Rochester Black Freedom Struggle Oral History Project, recording and making available online interviews with more than 20 key players in Rochester's fight against racial discrimination in the 1960s and 1970s.
The project's Web site offers text, audio, and video files of these conversations. "Actually hearing the interviews is more powerful than anything I could describe," says Rare Books Librarian Phyllis Andrews, who led the project. "For today's student, 1964 can seem like ancient history. This oral history project will help to bring those events to life and create a permanent resource for continued study and learning."
READ MORE: Rochester's Civil Rights Struggle Preserved On New University of Rochester Web Site July 1, 2009
VISIT THE SITE: www.library. rochester.edu/rochesterblackfreedom
---
Something Old, Something New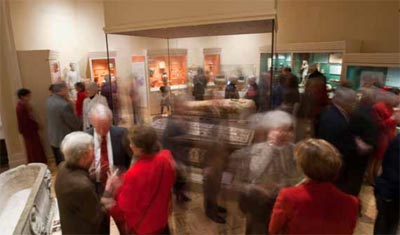 In December, the Memorial Art Gallery celebrated the opening of two new galleries showcasing ancient art collections, thanks to a $1 million donation from longtime MAG friend and supporter Helen Berkeley. Among the highlights of the new Helen H. Berkeley Gallery of Ancient Art—featuring works from ancient Egypt, Greece, and Rome—is a rare pair of fourth-century Egyptian coffins. A few steps away is At the Crossroads, a gallery exhibiting works from the ancient Middle East and the Islamic world.
READ MORE: Helen H. Berkeley Gallery of Ancient Art Now Open Dec. 17, 2009
---
Getting the Lead Out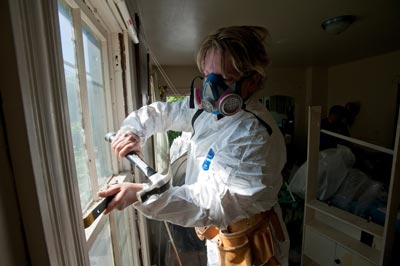 The U.S. Environmental Protection Agency (EPA) awarded the 2009 Environmental Justice Achievement Award to the Coalition to Prevent Lead Poisoning, the University of Rochester, the City of Rochester, Monroe County, and Empire Justice in recognition of their "outstanding leadership in community-based efforts to prevent childhood lead poisoning in the City of Rochester."
These and many other local groups have worked together since 2000 on a wide range of community-based efforts that led to a historic lead abatement ordinance approved by the city in 2005.
READ MORE: Rochester Recognized by EPA for Lead Abatement Efforts Dec. 14, 2009
---
Eastman Dental Urgent Care Opens
To address the Rochester area's increasing need for dental care, Eastman Dental of the Eastman Institute for Oral Health has opened an urgent care clinic. It is the region's only dedicated urgent dental care facility and can accommodate up to 60 patients a day.
A majority of Eastman Dental patients have no regular source of dental care and depend on emergency clinics for their dental needs.
"The new clinic not only improves our services, but also represents an opportunity to increase understanding about the importance of preventive dental care and oral health," says Eastman Dental Urgent Care Chief Yan-Fang Ren, an associate professor of dentistry.
READ MORE: UR Medical Center Announces New Dental Institute July 9, 2009