Discovery
Biologists Discover Gene That 'Cancer-Proofs' Rodent's Cells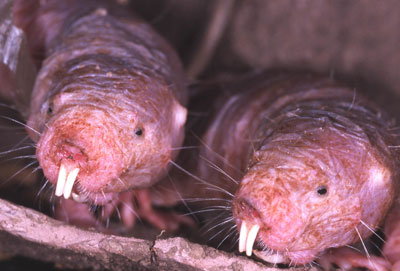 Despite a 30-year lifespan that gives ample time for cells to grow cancerous, the naked mole rat has never been found with tumors of any kind—and now biologists think they know why.
Vera Gorbunova, an associate professor of biology, and her team have discovered that the mole rat's cells express a gene—called p16—that makes the cells "claustrophobic," stopping the cells' proliferation when too many of them crowd together, thereby cutting off runaway growth before it can start.
READ MORE: Naked Mole Rat, the Only Known Cancerless Animal, Has Two-Tier Defense Against Cancer Oct. 27, 2009
---
Fusion Science Center Receives Increased Federal Funding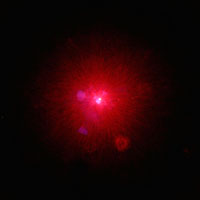 The U.S. Department of Energy awarded the University an $8.2 million grant to support the Fusion Science Center for Extreme States of Matter for the next five years. The grant marks a 50 percent increase over the $5.5 million that established the center in 2004.
READ MORE: Congress Increases Funding for University of Rochester's Laboratory for Laser Energetics Oct. 9, 2009
---
African Desert Rift Is an Ocean in the Making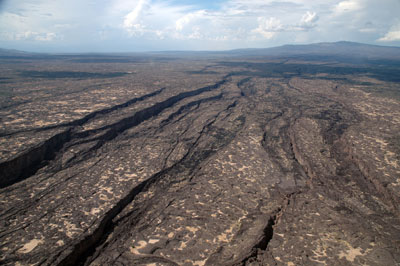 In 2005, a 35-mile-long rift broke open the desert ground in Ethiopia. At the time, some geologists believed the rift was the beginning of a new ocean as two parts of the African continent pulled apart, but the claim was controversial.
Now, scientists from several countries have confirmed that the volcanic processes at work beneath the Ethiopian rift are nearly identical to those at the bottom of the world's ocean, and the rift is indeed likely the beginning of a new sea.
Cindy Ebinger, a professor of earth and environmental sciences, coauthored the study, which was published in Geophysical Research Letters. The research suggests that the highly active volcanic boundaries along the edges of tectonic ocean plates may suddenly break apart in large sections, instead of little by little, as been generally believed.
READ MORE: Geologists Show that Seafloor Dynamics Are at Work in Splitting African Continent Nov. 2, 2009
---
Rochester-led Web Site Responds to Reduced Coverage of Science News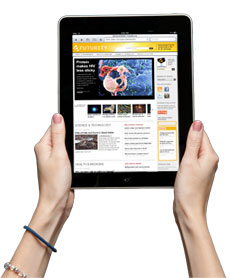 Responding to the decline in science news coverage by major press outlets, the University of Rochester, in collaboration with Duke and Stanford Universities, launched Futurity.org, an online source of university research news, in September 2009.
By the date of the launch, Rochester and its founding partners had secured the participation of over 30 more universities in the daily showcase of the latest and most innovative university research in science and other fields. By the end of the fiscal year 2010, that number had risen to 58, including several universities in the United Kingdom as well as Canada.
The site, which is hosted at the University of Rochester, covers research findings in a range of topics, including the environment, health, science, and society.
VISIT THE SITE: www.futurity.org
---
Rochester Hosts International Conference on Robin Hood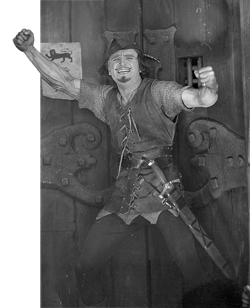 In October 2009, scholars from around the globe gathered on the River Campus for "Robin Hood: Media Creature," a conference that examined the ways in which the outlaw hero has been reshaped over the past 700 years through stage, song, literature, and memorabilia, and remains strikingly resonant today.
The event, which attracted coverage from both the New York Times and the Washington Post, featured the world premiere of a restored print of the 1922 film Robin Hood, accompanied by a live 11-piece orchestra performing a reconstructed score.
READ MORE: Even the Sheriff of Nottingham Can't Stop Robin Hood from Reappearing Sept. 22, 2009

VIDEO: Robin Hood Conference

VIDEO: Thomas Hahn: Robin Hood in Film and Popular Culture
---
Study Links Vitamin D, Race, and Cardiac Death
Vitamin D deficiency may contribute to a higher number of heart- and stroke-related deaths among black Americans compared to whites, according to a study by Rochester scientists.
Lead author Kevin Fiscella, a professor of family medicine, and colleagues studied a sample of more than 15,000 American adults. As expected, a vitamin D deficiency was associated with higher rates of death among all people in the sample. In fact, those adults with the worst deficiency had a 40 percent higher risk of death from cardiac illness. Genetic factors common to blacks sometimes preclude vitamin D absorption, such as higher incidence of lactose intolerance, which can eliminate vitamin-D fortified milk from the diet, and darker skin pigment that significantly reduces vitamin D synthesis.
READ MORE: Lack of Vitamin D: More Evidence Connected to Breast, Colon Cancer Oct. 21, 2010
---
University Libraries Create Innovative Virtual Work Space
In February 2010, the University launched UR Research, a virtual work space created by a team from River Campus Libraries.
UR Research offers a suite of online tools to meet an array of research needs, from authoring and organizing various versions of manuscripts, to showcasing completed work, to storing digital materials securely and when needed, permanently.
"It's a win-win relationship," said Suzanne Bell, the librarian who introduced the system to the University community. "Researchers get the tailor-made functions and online storage they need, Internet users get free and open access to academic research and priceless collections."
READ MORE: Virtual Work Space for Academics Promises Greater Access to Research Feb. 25, 2010
VISIT THE SITE: https://urresearch.rochester.edu/