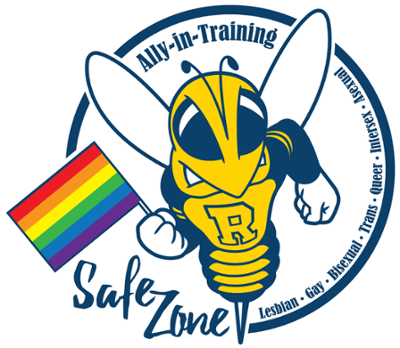 For Students: Safe Zone (Medallion Level 1)
Safe Zone at the University of Rochester is a dynamic, interactive session for students centered on activities and discussion of:
Inclusive and respectful language

The process of coming out

Understanding sexual and gender identity

Taking action on our campuses and in our workplaces

Where to go for help
These trainings are for students, presented by their peers, and give participants the skills they need to provide support and create environments that are safe, welcoming, and inclusive.
You may have seen stickers or signs that indicate a person has been "Safe Zone Trained." These signs mean a person is open to talking about and being supportive of LGBTQ (lesbian, gay, bisexual, transgender, and queer) folks and identities.
If you are interested in being trained as a Safe Zone facilitator (Medallion Level 2), or in having members of your student organization Safe Zone trained, or you would like more information about an upcoming Safe Zone training, please email BIC@rochester.edu.
For Faculty and Staff: Creating a Queer Inclusive AS&E: A Two-part LGBTQ Workshop Series 
(registration required – both parts must be attended)
In Part One, participants will learn some basic information about LGBTQ culture including current language and terms. This will allow participants to immediately begin the journey of creating more inclusive spaces in their work.
In Part Two, participants will begin to gain an understanding of cissexism and heterosexism in higher education. They will then explore how these themes manifest in their work and grapple with strategies to shift these norms on an individual and school-wide level. [participation in part one required]
Please email us to schedule this for your department or group:  BIC@rochester.edu.