Overview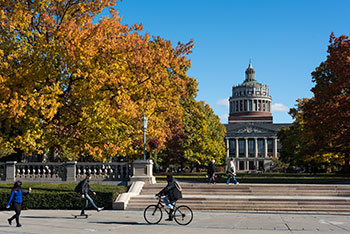 Arts, Sciences and Engineering (AS&E) at the University of Rochester comprises the School of Arts and Sciences and the Hajim School of Engineering and Applied Sciences. We offer both the intellectual excitement of a major research university and the intimacy and opportunities of a great liberal arts college.
Graduate training provided by the departments and programs of Arts, Sciences and Engineering accounts for more than 60 percent of the doctoral degrees awarded by the University.
The AS&E Graduate Education and Postdoctoral Affairs office strives to enrich the experience of graduate students and postdoctoral scholars by working with graduate programs and campus partners to build and maintain an engaged research and learning community. We are defined by a deep commitment to building and supporting a diverse and inclusive learning community where all are welcome and encouraged to thrive through our Meliora values. This is achieved through social and professional programming and by supporting faculty and staff who work with graduate students and postdoctoral scholars.