Student Employment
Wilson Commons Student Activities (WCSA) provides employment opportunities for undergraduate students looking to gain work experience while remaining on campus. We offer flexible work schedules, professional development, and opportunities to build skills necessary for their future careers. Positions vary from customer service, to technical skills, to management: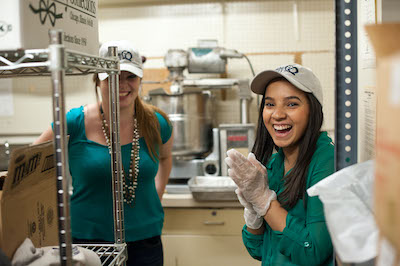 Campus Center Building Managers
Campus Information Center Attendants
Communications & Graphics Assistants
Leadership Office Assistant
Mascot & Spirit Assistants
Photography Assistants
Rocky's Sub Shop and & Lounge Attendants
Spurrier/Genesee Building Managers
Student Life Assistants
Student Organization Finance Office Accountants
Systems Analyst
The Common Market Attendants
Ticket Assistant
How to Apply
Students interested in working with our office should apply for open positions on JobLink. Positions become available throughout the year.
Why Work with WCSA
Our student employment program is designed to serve as a high impact practice that allows students to develop skills for their future careers. We use the College Competencies as our outline for skills our student employees should be developing. On campus employment is known to increase a student's sense of belonging, help with a student's identity development, and expand a student's support network.
Our student employees have shared the following:
100% said their employment experience with WCSA has provided learning opportunities.
96% said they feel they are part of a community due to their employment with us.
96% said they employment with us has provided them with skills for their future career.
96% said their employment with us has increased their ability to work with diverse populations.
The top 3 skills they developed from their employment experience with us are:
Customer Service
Collaboration / Interpersonal Communication (tied)
Problem Solving / Teamwork (tied)
Current Employee Resources