Student Employment
Wilson Commons Student Activities (WCSA) provides opportunities for undergraduate student employment. WCSA employs undergraduate students in the following positions/areas: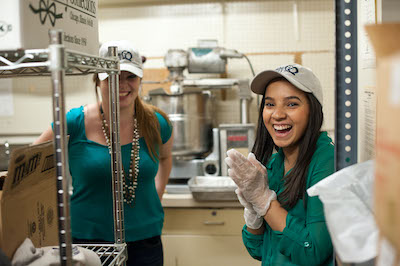 Campus Center Building Managers
Candy Makers
Common Connection
Communications & Graphics Assistant
Event Team Assistants
Food Pantry Assistants
Hartnett Art Gallery
Junior Systems Analyst
Mobile Box Office
Office Assistants
Rocky's Sub Shop and & Lounge
SA Transportation Assistant
Spirit Coordinators
Spurrier/Genesee Hall Building Managers
Student Organization Finance Office Accountants
The Common Market
Ticket Assistant
Web Development Assistant
Work-study is preferred for some positions.
Working in WCSA is rewarding and fun for undergraduate students with good interpersonal skills and a desire to work in service-oriented jobs. From supervising pool tournaments to staffing art exhibits, from managing key sign-outs to making fudge, WCSA has employment opportunities for motivated undergraduate students.
Students working in these positions demonstrate solid interpersonal skills, a professional attitude, friendliness, and responsibility. Most jobs in WCSA have flexible hours and are "schedule friendly." Many of the areas are supervised by a student team lead who reports to a professional staff member in WCSA.
Already work for WCSA? Use the links below to quickly find student employee policies, fill out your timecard, see our student employee award page, and more: