About
As we continue to stay dedicated to serving and supporting all students and postdocs in the Rochester area area users can shop at the Food Pantry (105 Wilson Commons) or use the online form Campus Community Connection (CCC) form to place Grocery Bag orders.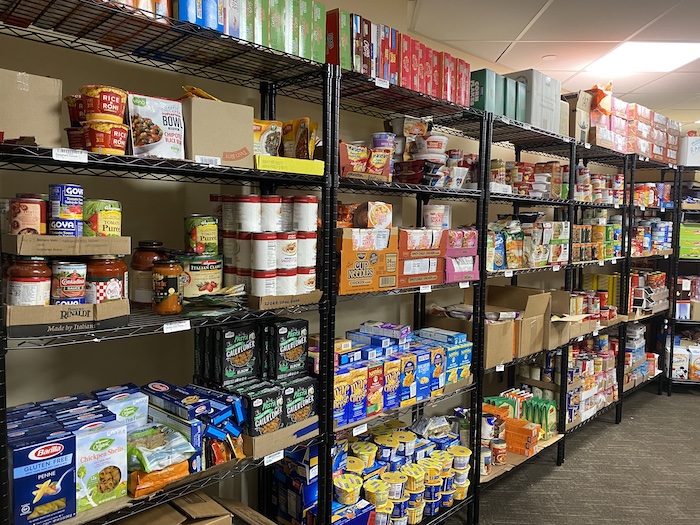 FAQ
Who should be using the Food Pantry?
While the Food Pantry is need-blind and does not require income or financial aid information to be served, in order to be able to make our supplies last and meet the current high demand, we ask that you consider whether the Food Pantry is right for you.
The Food Pantry should be used by any students or postdocs who: a) is food insecure; b) may be facing a change in employment status, and c) is currently in quarantine or isolation without the financial means to order food
While we understand that going to the grocery stores can be difficult for everyone at this time, if you have the financial means to do so, we ask that you consider the following options before using the Food Pantry: Grubhub, Amazon Pantry, Walmart Grocery Delivery, InstaCart.
When and where can Grocery Bags be picked up?
River Campus Location
Bags can be picked up at the Harnett Gallery located in Wilson Commons 105 on Tuesdays and Thursdays, between 3 p.m.. and 6 p.m. and Friday and Sunday 2 p.m. - 5 p.m. Orders need to be placed no later than 10 a.m. the day you are selecting to pickup on. Once a bag is ready to be picked up users will receive an approved CCC form with instructions.
Goler House Location
Bags can be picked up at Goler House (60 Crittenden Blvd) Monday - Friday from 9 am - 12 p.m.. or 1 p.m.. - 4 p.m.. For pickup on Monday or Friday orders must be placed the Thursday before by 9 a.m., for pickup on Tuesday, Wednesday and Thursday orders must be placed by 9 a.m. Sunday. Once a bag is ready to be picked up users will receive an email with instructions.
Eastman School of Music Location
Eastman School of Music students should use this branch. ESM students should not use the Order Form to place an order, but can instead arrange for an order and pick-up time by emailing reslife@esm.rochester.edu.
What if I am in quarantine or isolation?
If you are in quarantine or isolation in campus housing without the financial means to order food, we will work to do a non-contact delivery (if possible). Please complete the form as normal, and input this information when asked.
What is in a Grocery Bag?
Groceries bags will be filled with 7 to 10 non-perishable food items. Please note that when completing the form, you are not placing a direct order. Your preferences checked within the form will help us create your bag, but no food items can be guaranteed. The form requests information on dietary restrictions. We will do our best to avoid items that you did not indicate as preferred.
How can I continue to support the Food Pantry?
At this time, the Food Pantry can be supported in a variety of ways. Support our Crowdfunding effort and make a monetary donation online to help as we purchase food to stock our shelves.
Donations can also be made via our Amazon Wishlist. Food items on Amazon currently go in and out of stock quickly, and our list may not be up to date with In Stock items. We are in need of all non-perishable food items at this time, and encourage you to look for items that are not on the list that may be in stock. You can also get in contact with the Pantry Coordinator to coordinate donations through other grocery delivery services, such as Walmart and Wegmans.