Wilson Quad Ice Rink
The Wilson Quad Ice Rink is the newest winter addition to our Student Life Spaces. Register for a timeslot and get skating!
Don't forget to dress warmly and be sure to wear socks.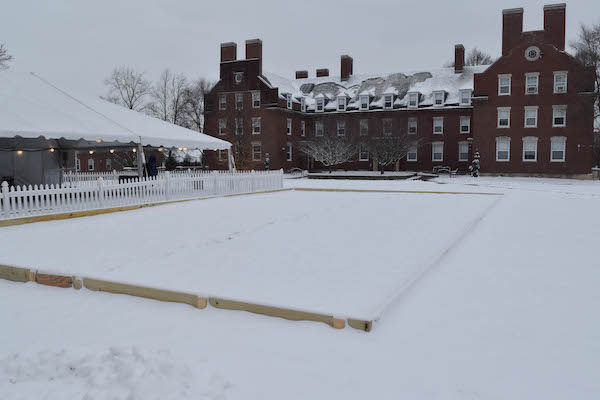 ---
Ice Rink Schedule
Weekday
Event Title
Time
Monday - Thursday
Open Skate 1
6 p.m. - 7:15 p.m.
Open Skate 2
7:45 p.m. - 9 p.m.
Friday
Beginners Open Skate
5 p.m. - 7 p.m.
Late Night Open Skate 1
8 p.m. - 9:15 p.m.
Late Night Open Skate 2
9:45 p.m. - 11 p.m.
Saturday - Sunday
Open Skate 1
1 p.m. - 2:15 p.m.
Open Skate 2
2:45 p.m. - 4 p.m.
---
DO's and DON'T's of the rink
DO make sure to walk on rubber matting to get onto the ice and not on the grass
DO make sure to skate in the same direction (clockwise or counterclockwise). Students cannot be going in opposite directions due to safety concerns
DO make sure everyone is wearing a mask at all times
DON'T do any lifts, jumps, or anything but skating
DON'T get off the ice onto the grass
DON'T bring anything onto the ice, including food or drink
---
Cancellation
In the event that Open Skate is cancelled due to weather or safety reasons related to the ice, you will receive an email from a member of the Wilson Commons Student Activities staff or Student Event Team a couple hours prior to the Open Skate. You can however, still register for another day of Open Skate!
---
Register
Registration is open to all University of Rochester River Campus undergraduate students. Please login to CCC to register for our Open Skates. The events can be found on the home page of CCC. Click Upcoming Events and then search Open Skate, or find the day you are interested in registering for.
---
Risk and Liability Waiver
As part of the Registration Process on CCC, you will be asked to fill out a Risk and Liability Waiver. This waiver will be linked within the registration form for every Open Skate.