First-Year Hill
Susan B. Anthony Hall and Genesee Hall make up the housing options on First-Year Hill. While each has its own unique features, both offer close access to campus and amenities. First-Year Hill room pictures.
Susan B. Anthony Hall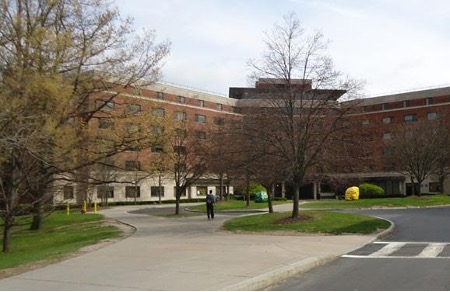 Commonly referred to as Sue B., Susan B. Anthony Hall is home to over 600 first-year students every fall. The x-shaped wings are named after four famous local suffragettes: Morgan, Hollister, Gannett, and Gates.
All floors are co-ed, some with male and female-only corridors (single-gender by corridor) and other corridors with alternating men's and women's rooms on the same corridor (co-ed by random room).
There are lounges with kitchenettes on each floor.
Susan B. Anthony Hall features a rooftop solarium, several large meeting and programming areas, and a beautiful formal lounge overlooking Fauver Stadium and the river.
Sue B. also contains one of the two major student dining centers (Danforth Dining Center) along with Hillside Market convenience store. The Customer Service/ID Office (ID cards, dining services, etc.) is also located on the first floor, while the Office for Residential Life and Housing Services is located in the basement office suites.
Susan B. Anthony Hall is a traditional corridor-style housing with mostly double rooms and a few dozen single rooms. There are shared corridor bathrooms. On the third floor in the Gannett Wing, there is an all-gender single-stall bathroom, which was installed in 2019. There is an accent wall in most rooms and the size of the rooms are generous. The building has two elevators and laundry rooms in both the basement and seventh floor. The lounges are carpeted, and the rooms have tile flooring.
Floor Plan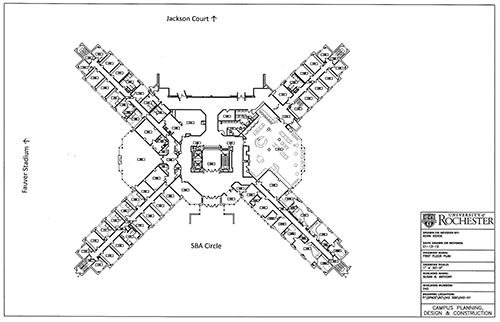 Room Dimensions
Room dimensions in Susan B. Anthony Hall are:
Singles:

Floors one-five: 12'6" x 9'7"
Floor six: 8'10" x 13'10"

Doubles:

Floors one-five: 15'2" x 13'10"
Floor six: 14'5" x 13'8"
Amenities
Susan B. Anthony Hall offers several amenities for students, including:
Media lounge (TV, air hockey table, lounge space)
Friel lounge (Projector, piano, lounge space)
Harper lounge (TV, lounge space)
Solarium (TV, pool table, piano, lounge space)
Front floor lounges (TV, whiteboards, lounge space)
Back floor lounges (whiteboards, lounge space)
Floor kitchens (microwaves, stoves, and sinks)
Basement and seventh-floor laundry rooms
Trash room on each floor
Vending machines in the basement floor
Gannett three all-gender bathroom
Genesee Hall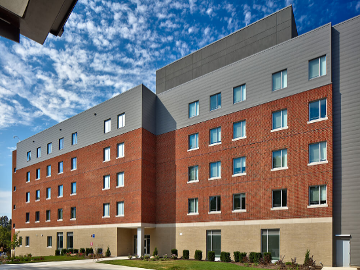 Commonly referred to as Genny, Genesee Hall overlooks its namesake the Genesee River, and features four residential floors which house approximately 150 first-year students. The hall has single, double, and designed triple bedrooms, and each floor has six individual bathrooms—each containing a private shower, sink, and toilet behind a lockable door. There are also three single bedrooms with attached handicapped-accessible bathrooms.
As a shared-use building, Genesee includes athletics and student activities spaces on the lower floors. The Varsity House is located in the first two floors of the building and includes locker rooms for the men's and women's outdoor teams, as well as sports medicine and team equipment rooms. The main level will be dedicated to academic and student life services with meeting rooms and offices. Genesee Hall was built with a commitment to sustainable design, construction, and operational practice.
There is a small kitchenette on the third floor of Genesee that has a sink, microwave, and refrigerator for student use. A large lounge features a TV as you walk into the residential area of Genesee Hall. There is a laundry room located on the third floor. Genesee has an elevator connecting the residential floors. Additionally, each floor has a social lounge with a TV and a study lounge with furniture and whiteboards.
There is a mix of co-ed and single-gender floors in Genesee Hall.
Floor Plan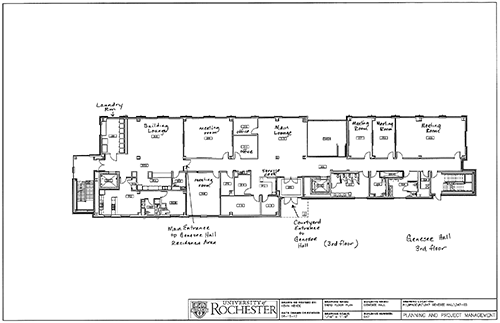 Room Dimensions
Room dimensions in Genesee Hall are:
Singles: 11' x 9'
Doubles: 11.5' x 20.5'
Triples: Vary in shape and size, but are larger than the double rooms
Amenities
Genesee Hall offers several amenities for students, including:
Climate controlled rooms
Floor lounges (TV, lounge space)
Study lounges (Whiteboards, lounge space)
Third-floor lounge (TV, lounge space)
Trash rooms on each floor
Third-floor laundry rooms
Kitchenette (microwave, refrigerator, sink)
Individual bathroom stalls
First-Year Hill Room Pictures