Room Furnishings and Packing List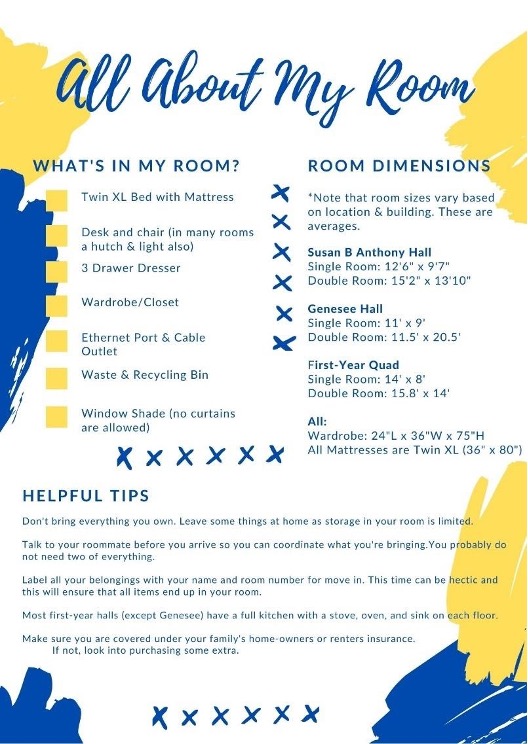 All rooms have a:
Bed
Mattress
Desk and chair
Dresser
Closet space
Wastebasket
Note that some rooms have hutches or bookshelves but not every building has these.
All rooms have basic window coverings for privacy. Curtains are not allowed.
Beds and Mattresses
Beds in double and triple rooms are bunkable and loftable in a variety of configurations to customize your living area.
Students must use the University-provided mattress. If there is a medical condition that requires a special mattress, you will need to fill out an accommodation request and, if recommended, you will need to provide proof that the mattress meets the University's fire protection standards.
We also have a limited supply of 36˝ x 90˝ beds and mattresses for students over 6'4". Please let us know if you require our longest mattress and bed frame.
Laundry and Cleaning
There are laundry facilities in each hall. You are responsible for doing your own laundry and cleaning your own room. The housekeeping staff sanitizes the bathrooms and public areas of housing facilities. It is not the job of the housekeeping staff to clean up after students and students are expected to keep common areas clean and clear of personal belongings.
Internet and Cable
Every room on River Campus has a wired high-speed computer connection (ResNet), to the University's systems and the internet as well as wireless connections. In addition, each room has a cable outlet providing 55–60 channels of local, national, and cable television, with additional subscription services available through Spectrum Cable. See University IT page for more information.
What to Bring

Bed and Bath
Bed and bath items to bring:
Twin extra-long sheets
Blankets
Pillows
Mattress pad (optional)
Shower flip-flops and caddy/tote
Umbrella and rain boots
Winter coat, hat, gloves, boots, and scarf
Toiletries
Clothes and shoes
Storage, Laundry, and Cleaning
Storage, laundry, and cleaning items to bring:
Hangers
Laundry basket/bag
Detergent
Cleaning supplies (mini vacuum, cleaning wipes, duster, Windex, dish soap, sponge, etc.)
Misc
Misc items to bring:
School supplies
Clock
Organizational containers
Health/first-aid kit
Headphones
Mini fridge (no more than 4.5 cu. ft.)
Microwave
TV and co-axial cable
Unbreakable tableware (plate, utensils, cups, bowls, water bottle, etc.)
Tool kit
Mirror
Fan
Reusable bag
Bike and bike lock
New York State fire codes severely restrict cooking in student rooms. However, students may bring small refrigerators (no more than 4.5 cu. ft.) and small microwaves. These items should be stored within each student's room. Check with your area office about other appliances before you bring them to the residence halls as many are not permitted in bedrooms.
Additional Items
These are common items students bring but may have restrictions:
Surge protectors, must have:

UL approved tag
Over-current protection (switch has a reset button)
Grounded (three prongs)

Lamp:

Must not have bendable arms that can be turned upwards
Clip lamps and lamps with outlets are prohibited
Coffee markers, hair dryers, curling irons, blenders, etc. are allowed if they have an automatic shutoff. No cooking appliances are allowed in your bedroom except a microwave.
Basic extension cords are not allowed.
What Not to Bring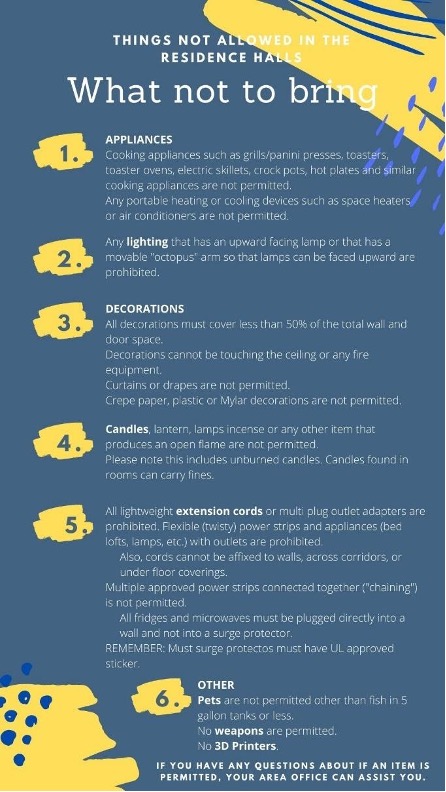 Appliances
Students should not bring cooking appliances such as:
Grills/panini presses
Toasters
Toaster ovens
Electric skillets
Crock pots
Hot plates
Any portable heating or cooling devices such as space heaters or air conditioners are not permitted.
Lighting
Any lighting that has an upward facing lamp or that has a movable "octopus" arm so that the lamps can be faced upward are prohibited.
Students and their parents should read the lamp guide before purchasing a lamp.
Decorations
All decorations must cover less than 20 percent of the total wall and door space. Decorations cannot be touching the ceiling or any fire equipment.
Curtains or drapes are not permitted.
Crepe paper, plastic or Mylar decorations are not permitted.
Items that Use Fire
Candles, lanterns, lamps, incense or any other item that produces an open flame are not permitted. Please note this includes unburned candles. Candles found in rooms can carry fines.
Extension Cords and Plug Outlet Adapters
All lightweight extension cords or multi-plug outlet adapters are prohibited. Flexible (twisty) power strips and appliances (bed lofts, lamps, etc.) with outlets are prohibited. Also, cords cannot be affixed to walls, across corridors, or under floor coverings.
Multiple approved power strips connected together ("chaining") is not permitted.
All fridges and microwaves must be plugged directly into a wall and not into a surge protector. Remember: Surge protectors must have UL approved sticker.
Other
Pets are not permitted other than fish in a 5 gallon tank or less.
No weapons are permitted.
No 3D printers.
Questions
If you have any questions about if an item is permitted, your area office can assist you. The full policy can be found on the Environmental Health & Safety website