Brooks Crossing Apartments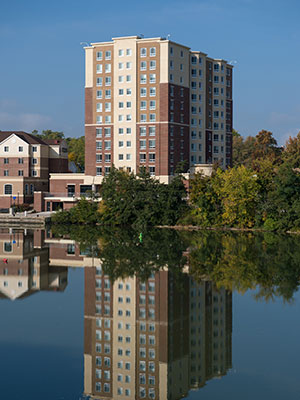 Brooks Crossing is an apartment-style building open to juniors and seniors only. There are one-, two-, three-, and four-person apartments. Brooks Crossing Apartments were constructed in a joint undertaking between a private developer and the University in 2014.
This area is named after the location and rests at the intersection of Brooks Avenue and South Plymouth Avenue. It features upperclassmen private bedroom apartments with full kitchens similar to the Riverview Apartments. Air-conditioning, private bathrooms, and wireless and wired internet access are available to all residents. The total occupancy is 170 students. The building includes laundry facilities and is conveniently located to several local businesses and restaurants. There are wonderful views of the city and the Genesee River.
Brooks Crossing Apartments are similarly priced to Riverview Apartments with the exception of the one-person apartments which will be priced a bit higher. This is a group 3 meal plan building.
The basement has a large programming space and kitchenette in addition to a bike storage room. Laundry facilities are located in the basement. Every effort was made to ensure a safe and well-established community exists. Local businesses cater to the student population, the University Public Safety team has a satellite office located in the Riverview Apartment complex, that also covers Brooks and the Rochester Police Department has an office nearby. The UR Rowing team has a training facility in the basement as well.
Room Dimensions
The average room size for the Brooks Crossing Apartments is 132 square feet but all rooms have slightly different dimensions.
Amenities
Brooks Crossing offers the following amenities:
Beautiful waterfront outdoor space
Right by the entrance to the pedestrian bridge to campus
Air conditioning
Carpeted Rooms
Elevators
Basement lounge with kitchenette and outdoor access
Shuttles
Brooks Crossing is on the University shuttle gold line. The gold line is a weekday line that travels between Riverview Apartments, Brooks Crossing Apartments, and River Campus.
Resources
Students interested in living in Brooks Crossing can use the following resources to help make their decision.
Floor Plans
Brooks Crossing floor plans (pdf)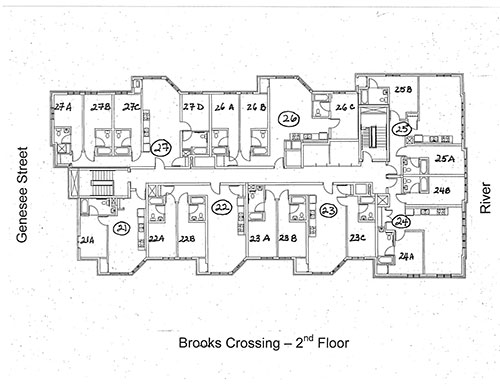 Virtual Tour
Area Pictures