Southside Living Area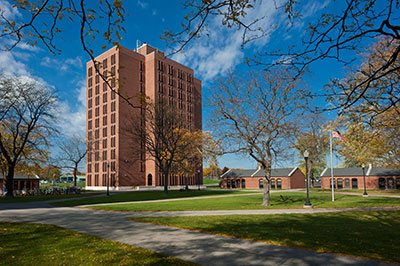 Southside is a scenic residential community located on the south end of campus. Valentine and deKiewiet towers were built in 1965 and are named after presidents Alan Valentine (1901–1980) and Cornelis deKiewiet (1951–1961). Southside was originally built as graduate housing and transitioned into undergraduate housing.
This area is made up of two towers open to all upperclass students and the surrounding maisonettes are open to juniors and seniors. The Southside Living Area is located close to the Medical Center on Kendrick Road, and is on multiple University shuttle lines (blue and silver lines). 
deKiewiet and Valentine Towers have two- and three-person apartments. While these apartments don't have common rooms, they do have full kitchens with a refrigerator and stove/oven, and a bathroom shared by apartment mates. Both bedrooms in the two-person apartments are a good size. In the three-person apartments there are two large bedrooms and a small bedroom. The maisonettes are spacious two-person apartments with exterior entrances that are only eligible for juniors and seniors to live in. The maisonettes have a large common room, kitchen, and a shared bathroom. These buildings are a group 3 meal plan.
The undergraduate apartments are considered independent living. Residents are responsible for providing supplies and cleaning their own apartments including bathrooms. However, we do supply toilet paper at the service desk located in Valentine Tower.
There are a number of amenities in Southside including a lounge in the basement of Valentine and a courtyard.
Room Dimensions
Average room dimensions for the Southside Living Area are:
Large rooms: ~10' x 14'
Small room: ~9' x 10'
Note: The dimensions listed here are averages. All rooms have slightly different dimensions.
Amenities
Southside Living Area offers the following amenities:
Common lounge in Valentine basement
Beautiful courtyard
Access to two shuttle lines
Plentiful bike racks
Service desk in Valentine Tower
Large parking lot next to Valentine
Resources
Students interested in living in Southside can use the following resources to help make their decision.
Floor Plans
deKiewiet Hall floor plans (pdf)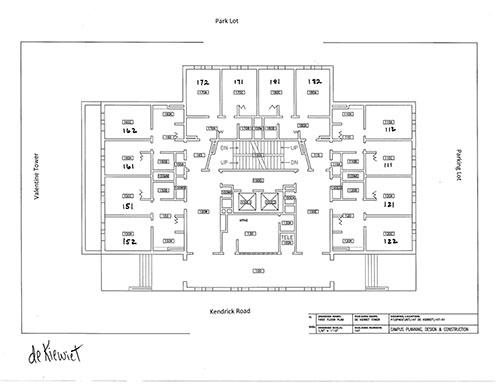 Maisonettes floor plans (pdf)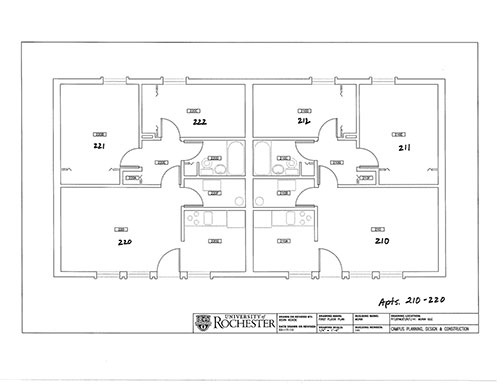 Valentine Hall floor plans (pdf)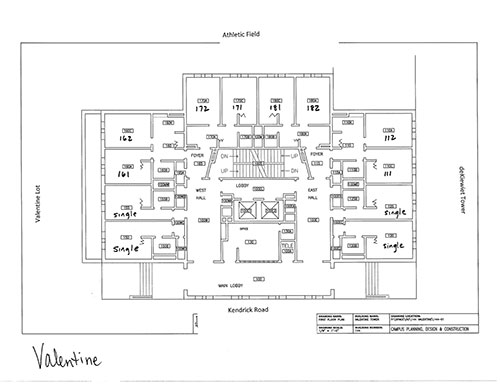 ---
Virtual Tour
---
Area Pictures