Item Rental
Area offices may have items for rent. The items can vary based on office as most of the rentable items have been purchased in the past by leadership ambassadors for use in the area.
These items can include cleaning equipment (vacuums, brooms, mops but not cleaning solutions). Your RA or area office can let you know what items are available to rent.
MicroFridge Rental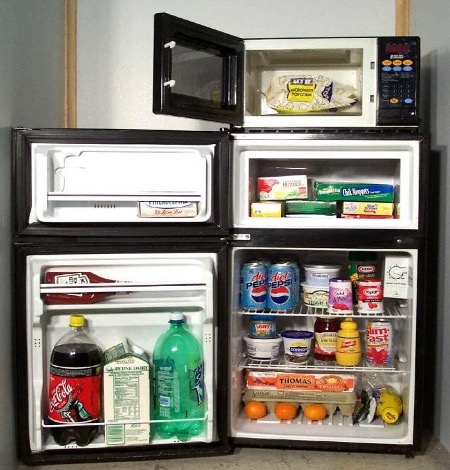 The University of Rochester does not have mini or micro-fridges to rent. Instead the University contracts with the MircoFridge Leasing Company whom students can work with to rent a MicroFridge. Students who have issues with their MircoFridge will need to contact the MircoFridge Leasing Company directly.
About MircoFridge Rental
Having a MicroFridge allows you the freedom to have food, drinks, and snacks right at your fingertips. Soup when you are sick? Popcorn for movie night? Quick snack to power through that late night study session? Ice cream to celebrate finishing the big project? It's all right here!
A powerful 700 watt microwave for hot treats, a zero degree freezer for frozen goodies, and a 2.9 cubic foot refrigerator for energy drinks, cold water, take-out leftovers, and everything else you and your roommate can fit inside. When the dining hall is closed, the MicroFridge is open.
A MicroFridge also allows your school to conserve energy the Energy Star compliant refrigerator shuts off temporarily while the microwave runs, using the power of a single appliance. Household microwaves can use 1100 watts or more. These 700 watt microwave means at least 34 percent less energy consumption.
Cost and Ordering Information
MircoFridge Leasing Company is an outside vendor that many students rent microfridge's through for the year. They deliver directly to you in your residence hall early in the fall semester and also pick up the units at the end of the year. Orders must be submitted online through the secure MircoFridge leasing website typically in early August. Microfridge's can also be rented for the summer semester.
The leasing website accepts both Visa and MasterCard and also includes information on delivery schedules, cost, deadlines for fall delivery, and other products available to buy or lease.
Measurements and Specifications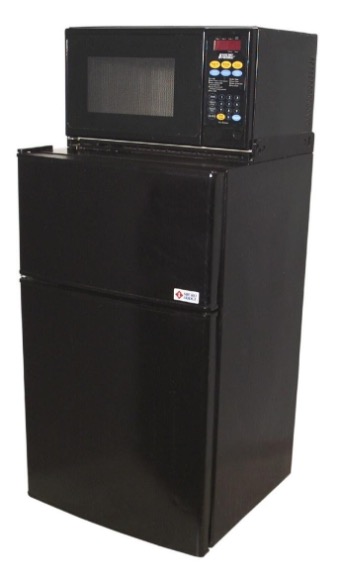 MircoFridge Measurements:
Height: 43"
Width: 19"
Depth: 19" 2.9 cu. ft. refrigerator 1.0 cu ft. freezer
Specifications:
Microwave Watts: 700
Amps Used: 1.4
Adjustable Thermostat
Digital Microwave
Single plug operation
MicroFridges must be plugged directly into the wall to comply with fire safety requirements and cannot be plugged into a surge protector.
Questions and Issues
Students who have a question about, or an issue with their MircoFridge need to contact the MircoFridge Leasing Company directly. University staff cannot help with MircoFridge issues.