Jackson Court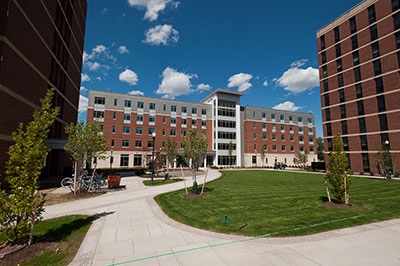 Jackson Court is the home to O'Brien Hall, Anderson Tower, and Wilder Tower. Jackson Court was first created in 1962 with Anderson and Wilder Towers as an expansion to student housing. O'Brien—one of the most recent additions to River Campus—was built in 2012.
The buildings are located east of Fauver Stadium and at the bottom of the First Year Hill. Jackson Court is next to Bausch & Lomb Riverside Park and the Sage Art Center. The three buildings share a courtyard equipped with a brick fireplace, a grill, and a sand volleyball court. Combined, the total occupancy for the towers (Anderson and Wilder) is 668 students while O'Brien houses 120.
Anderson and Wilder Towers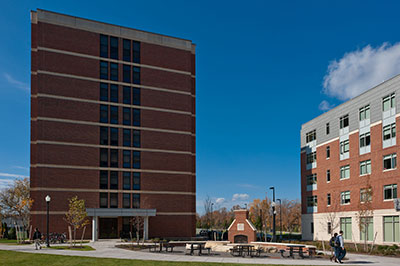 Anderson and Wilder are mostly suite-styled. Each suite typically contains four singles and one double. Suites have a common room for residents to share, as well as a shared bathroom. Each floor also has a center-double that is joined by a shared bathroom with the floor RA.
Both buildings have elevators available and each floor has a shared kitchen which includes a stove, a sink, and a refrigerator. All bathrooms within the rooms are cleaned weekly by an environmental service worker (ESW) and some suites have been modified for students with accommodations. Although each floor hallway is carpeted, most rooms have tile flooring.
The first-floor lobbies for each building have study rooms for residents to use and a shared lounge. Residents living in Anderson and Wilder require group three meal plans.
Anderson Tower was built in 1962 and is named for Martin Brewer Anderson, the University's first president, who served from 1853 until 1888 and was a member of the Board of Trustees from 1887 until his death.
Across Jackson Court is Anderson's sister building, Wilder Tower. Also built in 1962, it was named for John Nichols Wilder, who was the University's first chairman of the Board of Trustees from 1850 to 1858. Wilder declined the University presidency for business reasons but played an important role in its early years.
O'Brien Hall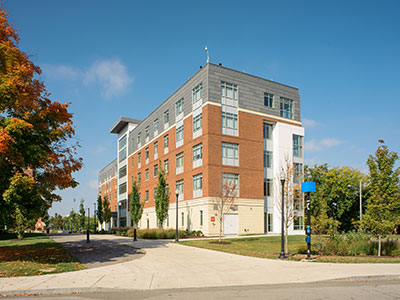 O'Brien's housing is a mixture of double and single rooms. On each floor, there are two sets of center doubles. These rooms share a private bathroom with each other. Each floor has two large gendered bathrooms, as well as two single-use all-gendered bathrooms. Rooms in O'Brien have air conditioning and carpeted flooring.
Every floor within O'Brien has a study room and a shared lounge space. Moreover, O'Brien is equipped with an elevator. Significant to O'Brien are the large, wall-length windows surrounding the lounges and study rooms, which allow for natural light to encompass the entire floor. The windows allow a clear view of the Rush Rhees tower and the Genesee River.
Rooms within O'Brien are furnished with modern style-furniture in a cherry finish. O'Brien's first-floor lobby has a large living space for the residents to share and a kitchenette with a large sink and counter space.
The entire University community can also enjoy a conference space, music room, and a dance studio located right outside the residential entrance. O'Brien is proudly LEED Gold Certified. Students living in O'Brien must have group two meal plans.
O'Brien Hall, was built in 2012 and named for Dennis O'Brien, the University's ninth president, who served from 1989 to 1996. O'Brien laid the groundwork for President Jackson's Renaissance plan. 
Tunnels
All buildings within Jackson Court share a tunnel system to facilitate movement during Rochester's winter months. On the tunnel floor of Wilder, there is a recreational room for all Jackson Court residents to share and even play pool.
Special Interest Groups
Jackson Court houses many special interest groups.
Anderson is home to the:
Anime Interest Floor (AIF)
Computer Interest Floor (CIF)
Wilder is home to the Music Interest Floor (MIF) and the following Greek groups:
Delta Upsilon (DU)
Sigma Delta Tau (SDT)
Chi Omega (XO)
Kappa Delta (KD)
Room Dimensions
Average room dimensions in Anderson and Wilder towers:
Suite Single:  7' X 12'
Suite Double: 10' X 12'
Center Double: 12' X 12'
Average room dimensions in O'Brien Hall:
Single: 9' x 13'
Double: 11' x 21'
Note: The dimensions listed here are averages. All rooms have slightly different dimensions.
Amenities
Amenities in Anderson and Wilder Towers:
First floor:

Community lounge with TV
Two study rooms with white boards

Floors 2-9:

Kitchens with stove, refrigerator, counter, sink, and trash chute

Basement:

Laundry room
Recreational room (Wilder only)

One shared bathroom in each suite
One shared bathroom for center doubles
Trash rooms on each floor
Amenities in O'Brien Hall:
First floor:

Community lounge with TV
Kitchenette with refrigerator, counter, sink, and microwave
Laundry room with food and drink vending machines
Dance studio with piano*
Music room with piano*
Conference room*

Floors 2-5:

Community lounge with TV
Study room with TV and white board
Two all gender bathrooms on each floor

Double sinks in all bedrooms
Trash rooms on each floor
*Reservable to the campus community.
Resources
Students interested in living in Jackson Court can use the following resources to help make their decision.
Floor Plans
Anderson Tower floor plans (pdf)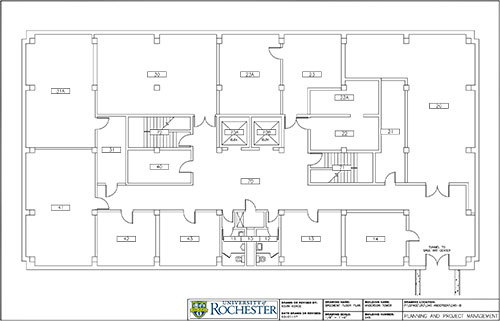 O'Brien Hall floor plans (pdf)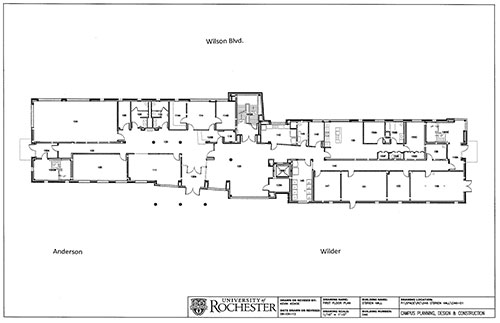 Wilder Tower floor plans (pdf)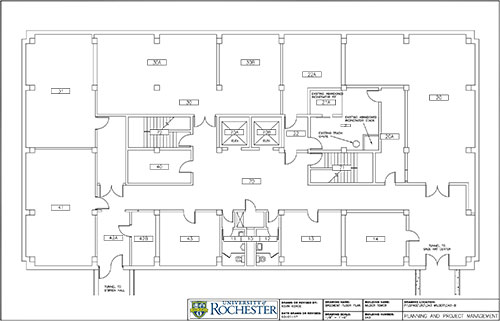 ---
Virtual Tour
Area Pictures