Riverview Apartments
The Riverview Apartments are a beautiful apartment complex for juniors and seniors located right across the Genesee River within view of campus. The Riverview Apartments were constructed in a joint undertaking between a private developer and the University in 2008. The area was named after the view of the Genesee River.
These buildings offer various accommodations, including private bedrooms and bathrooms in two-, three-, and four-person bedroom apartments with full kitchens. They feature private bedroom apartments with air conditioning, wireless and wired internet connections, and laundry facilities in each building. The total occupancy is 500 students.
Maintenance in Riverview works differently than River Campus, and our management company has an office on the first floor of Building C to assist you. Although maintenance is different, ResNet service is the same as on campus. You can have a group 4 meal plan in Riverview.
Many students use the Gold Line Shuttle to and from campus. While it doesn't run 24/7, it covers a good portion of the daytime and evening hours. There is also weekend afternoon bus service to campus.
Location and Safety
Riverview is located in the PLEX neighborhood and the surrounding 19th Ward of the city of Rochester. Every effort was made to ensure a safe and well-established community. Local businesses cater to the student population, the University Public Safety team has a satellite office located in the Riverview Apartment complex, and the Rochester Police Department has an office that is within a block of Riverview.
Room Dimensions
Average room dimensions for the Riverview Apartments are:
Note: The dimensions listed here are averages. All rooms have slightly different dimensions.
Amenities
Riverview Apartments offers the following amenities:
Large community room with a grand piano (Building F)
Access to a shuttle line
Air conditioning
Ample parking
Most buildings have elevators (D and E do not have elevators)
Carpeted bedrooms
Resources
Students interested in living in Riverview Apartments can use the following resources to help make their decision.
Floor Plans
Riverview buildings A-E floor plans (pdf)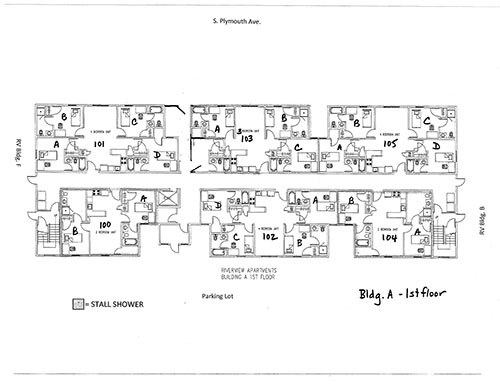 Riverview building G floor plans (pdf)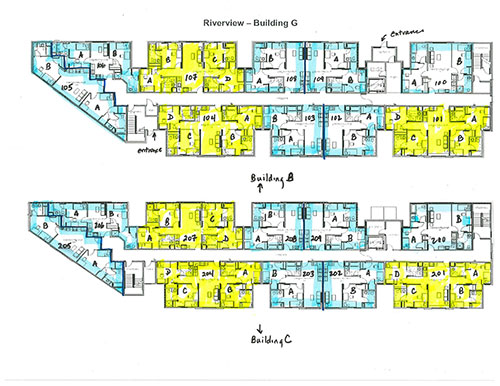 ---
Virtual Tour
---
Area Pictures