First-Year Quad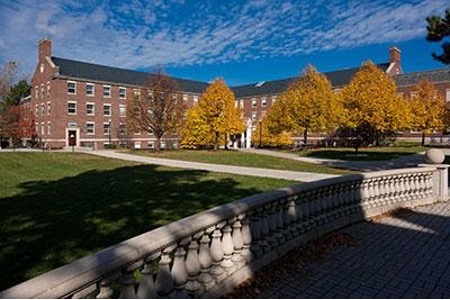 The first-year portion of the Residential Quad includes Gilbert, Hoeing, Tiernan Halls, and Lovejoy Halls and are overseen by two Area Offices. Gilbert, Hoeing, and Tiernan Halls are overseen by the First-Year Quad Area Office and Lovejoy Hall is overseen by the Bridge Area Office. These buildings are right in the center of the action on campus, being close to Wilson Commons, Todd Union, Goergen Athletic Center, and Douglass Commons. With beautiful outdoor spaces on the Residential Quad, there is plenty of space during nice weather to hang out with friends, use the grill on the quad, or go across Wilson Boulevard to Bausch & Lomb Riverside Park to walk along the river.
The First-Year Quad is traditional corridor style housing with triple, double, and single sized rooms and shared corridor bathrooms. Rooms are a generous size. None of the three buildings have elevators but all of them have entrances on at least two different levels. No rooms in these halls are carpeted. All of the buildings feature wood molding around doors giving them a warm and unique feel.
All three halls feature a small common use kitchen and lounge on each floor.
Lovejoy, Hoeing, and Tiernan are smaller L-shaped floors with the kitchen and lounge in the center of the floor. Gilbert is a larger four-shaped floor with two kitchens and three lounges on each floor.
A mix of co-ed and single-gender halls, the first-year quad has a cozy community feel in a traditionally collegiate-looking quad. First-Year Quad photos.
Floor Plans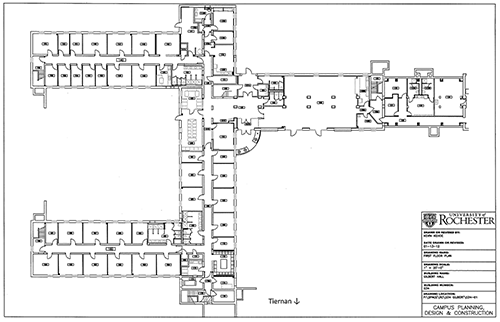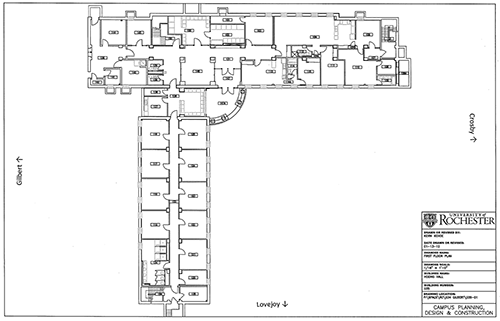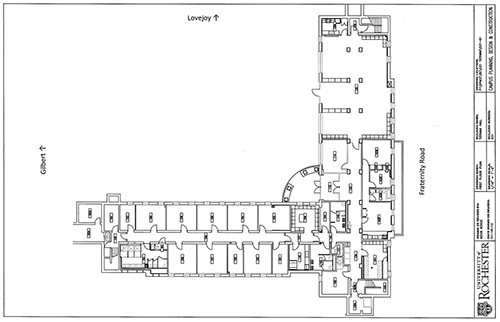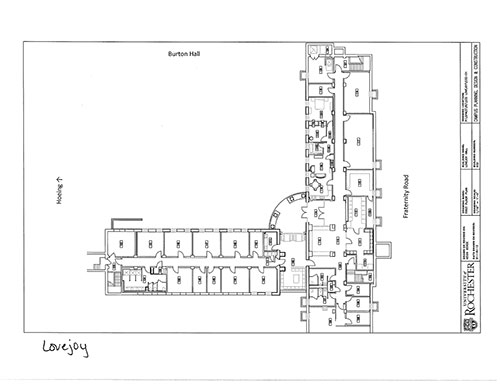 Room Dimensions
On average, room dimensions in the First-Year Quad are:
Singles: 8'x14'
Doubles and Triples: 15.8' x 14'
Amenities
Between Gilbert, Tiernan, and Hoeing the First-Year Quad offers a variety of amenities for students:
Gilbert community lounge (TV, piano, whiteboard, lounge space)
Tiernan community lounge (TV, pool table, whiteboard, study space)
Hoeing first floor study rooms (two)
Gilbert, Hoeing, Tiernan conference rooms
Trash rooms on each floor
First-floor laundry rooms
Floor kitchens have microwaves, stoves, and sinks
Floor lounges have TVs and whiteboards
Vending machines on first floors
Tiernan all-gender bathroom on first floor
Gilbert community garden
First-Year Quad Room Pictures