Incoming Freshmen
Welcome!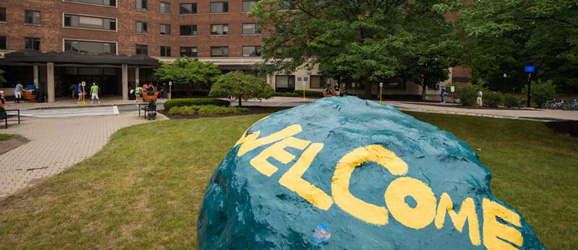 Susan B. Anthony Residence Hall
Congratulations on your admission to the University of Rochester and welcome to the University community. One of the many important decisions you must make several times while at the University is where you will live. University housing is a very popular option. Freshmen and sophomores are required to live on campus, while two-thirds of the juniors and more than half of the seniors choose to live on campus. There are many worthwhile options to choose from during your student years, both within the Residential Life (College housing) system and beyond. These web pages are designed to describe the Residential Life and Dining Services programs for first-year students in some detail.
At the University of Rochester, we house first-year students together. This unique and creative project pairs the leaders, faculty, and staff members of the College with Residential Life and Dining Services to provide a tremendous new living community. Energetic residential, academic, support, social, recreational, and resource programs are in place to support the freshman class. The skills, closeness, and lifetime friendships that you develop as a result will ease your transition into the University and Rochester community.
We encourage you to read the Residential Life materials carefully (we know you get buried with reading from all sides, but your campus home is critical to your success). They are designed to help you prepare for living at the University of Rochester. You are especially encouraged to read the Application/Contract form and the Contract Conditions text at the end of this publication. Fill out the application accurately and return it promptly so that we can serve you best. If you have any questions at all, don't hesitate to visit us at the Residential Life Office in 020 Gates Hall (Susan B. Anthony Halls), call (585) 275-3166, fax (585) 276-1886, or e-mail us at housing@reslife.rochester.edu. If we do not have an answer for you, we will either find it or help you find someone who does.
You are probably approaching this time with both excitement and apprehension. There is justification for both feelings. We in Residential Life believe that your living experience should be one of excitement, and we look forward to working with you to make it that way.
Good luck with preparations to attend the University of Rochester. We look forward to greeting you.
Sincerely,
Laurel F. Contomanolis
Executive Director of Residential Life